As two million "College GameDay" fans watched on TV, and thousands of North Dakota State University Bison fans cheered in downtown Fargo, ESPN analyst and former coach Lee Corso walked out of the Fargo Theatre Saturday morning wearing NDSU mascot Thundar's head with a real baby bison alongside him on the red carpet.
All those viewers now know the bison's name is Corso, after the coach, but many people may not be aware that the little bison lives at the Chahinkapa Zoo in Wahpeton.
Kathy Diekman, Chahinkapa Zoo's director, said it was a big secret that they were going to bring out a real bison at the end of the show.
"We've always had a good relationship with NDSU, with the zoology and biology departments," she said. "More than 75 percent of our zookeepers are NDSU zoology alumni and we love the Bison."
She explained how the zoo received a call from the university's athletic department about ESPN coming to Fargo to televise "College GameDay" and they wanted a live bison on site.
"It was big news for everybody and they knew we had one," she said.
The baby bison, who was not yet named, was in the zoo's animal training program and Diekman said the staff decided to go ahead and use him for the appearance.
"We thought if we were to do anything with him and the public, besides the petting zoo area, we wanted to acclimate him slowly," Diekman said. "What an acclimation! Nine million viewers, 6,000 people there or whatever it was, We're very impressed he did that well."
Diekman had nothing but praise for the ESPN and NDSU staffs, along with Fargo Theatre staff, in respecting the zoo's concerns for the safety of the bison as well as the crowd.
"Our biggest concern is always the welfare of the animal, the safety of the public and the safety of our staff," she said. "ESPN, NDSU and the Fargo Theatre people were so respectful of our wishes for our bison, they were wonderful to work with."
She also praised Coach Corso for his professionalism.
"We didn't meet Coach until that moment, but it went very well," she said. "He knew exactly when he came in what he was going to be doing, what we were going to be doing, and the ESPN folks were very professional. They stepped out and everybody cheered."
Chahinkapa's zookeeper trainer, Nate Olson, a Fargo native and NDSU alumni, walked the bison on the lead rope next to Coach Corso. Zoo Curator Tom Schmaltz brought up the rear. She said the zoo was asked if the bison could be named Corso, which they agreed to, but she wasn't aware they were going to announce it that morning.
"They led him out and said, 'This is Corso, the bison.' We're keeping that name. We are genuine!" she laughed.
She said the little bison did great.
"He likes people, he likes them very much. It was a great acclimation for him and it's great for our bison," Diekman said.
Chahinkapa Zoo has four adult bison along with Corso.
"NDSU is not a Fargo college, it's a state college and we're all very proud of our Bison, and we're honored to be a part of it," she said.
Diekman said the zoo looks forward to a continued partnership with NDSU athletics.
"We're very proud we were on ESPN and even more proud to be part of the Bison Herd," she said.
More about baby bison Corso
+1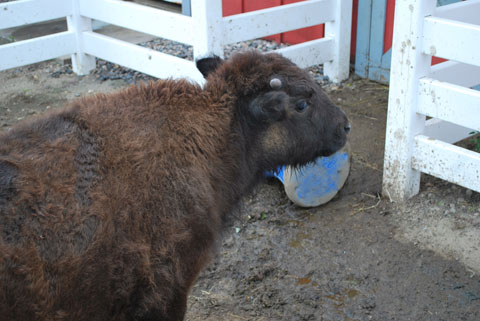 Diekman said the zoo received a call in May from Siouxland Buffalo Ranch in Grand Forks, saying they had a "baby bison on the ground and could we raise it?"
The bison's mother had rejected him and the baby needed the essential nutrient colostrum if it was to survive.
"It was critical we get to him right away, so we did. They know we have a bison herd. They know we have a training program and they know we have the staff to care for something like that," she said.
Because he is hand-raised, he will be kept separate from the zoo's adult bison for now, she said, and they will need to re-assess that as he grows. He currently resides in the petting zoo.
"Not many zoos have a baby bison in their petting zoo," Diekman said. "He knows people, he's good with people. We deem it safe and we welcome people to come and meet him."
Chahinkapa Zoo is open 10 a.m. to 5 p.m. daily through Oct. 21.