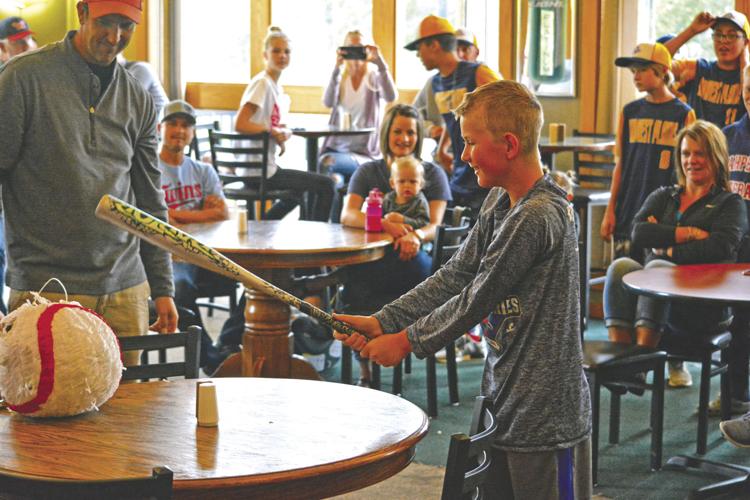 Colton Fliflet was under the impression he was attending a banquet to celebrate his brother Jackson's 14U Babe Ruth baseball team on Monday, Aug. 26.
The players lined up at Bois de Sioux Golf Course and took a few hacks at a piñata designed as a baseball. They offered Colton a chance to break it open and he swung away like a lumberjack.
The 10-year-old was happy to get the first Tootsie Roll when he cracked it open and tried to book it back to his group. His mother, Ashley Fliflet, encouraged him to keep looking around when he pulled out a rolled-up banner. Colton unveiled it to read "COLTON YOUR WISH HAS COME TRUE!!" He was headed to Legoland in Florida.
"(Make-a-Wish) came in June of this year and said, 'We don't want to push this off anymore. This kid deserves his wish,'" Ashley said. "We have a trundle under his bed and most people put clothes and stuff in that or sheets, but no. All of his are Lego pieces that are built that he doesn't want to get ruined. They told him about Legoland and he said, 'Oh, I want to go there.'"
Colton had a non-cancerous brain tumor removed last year. His trip has been a long time coming and there was a lot of work done behind the scenes to make it possible.
"We were told about Make-a-Wish by our social worker. They kind of helped get the ball rolling because a lot of the paperwork has to be filled out by physicians and they have to sign off and say he's healthy enough to travel and stuff like that," Ashley said.
Colton thought he was going to meet with Kaycee Fuder, who he calls his "Make-a-Wish friend" to tell her about his trip to Alabama. It was "coincidentally" the same location as what he thought was the baseball banquet, which was actually held after Colton's celebration at a different location. He was happy to have the team he followed to Kentucky and Alabama at the event.
"I showed them who actually knew how to hit," Colton said.
Colton's a creative builder that tries to keep his sets intact once they're finished. His love of Legos is shared with the video game Minecraft, which is also for people to use their imaginations to create. His original wish was to meet YouTuber, "DanTDM" who makes Minecraft videos for his more than 22 million subscribers, but they couldn't make an international trip to the United Kingdom work out.
"(Make-a-Wish) helped him brainstorm asking what he liked to do, which is of course play Minecraft and the other one was build with Legos," Ashley said.
Colton was thrilled when he learned Legoland was a possibility. Other stops on the trip will include Magic Kingdom Park, Universal Studios and Kennedy Space Center. Space is an interest that came about during his time in the hospital.
"On his first MRI they put him in a hospital gown, but it was an astronaut uniform is what it looked like. They put this big MRI over his head and that was his spacesuit and then he was going into a space shuttle," Ashley said. "It can be kind of intimidating if you don't know what to expect. Ever since then he's kind of been obsessed with astronauts and all of that so that's why he wanted to go to Kennedy Space Center."
Colton will be joined by mother, his brother Jackson and his grandpa Steve Mann.
"No matter what they'll have in store for us, it'll just be an amazing trip. He deserves it. He's had a really tough year and a half," Ashley said. "Lots of therapy, lots of doctor appointments. It'll be nice that just for a week he can go have fun and not worry about when his next appointment is or anything like that."