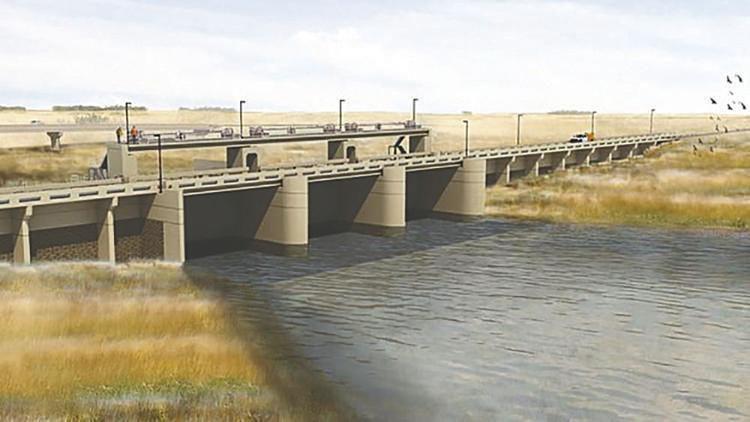 The city of Horace, North Dakota, considered intervening in litigation against the multi-billion Fargo-Moorhead Diversion.
Instead, they're partnering in a cost-share agreement with the Diversion Authority and are no longer opposing the project.
Horace will eventually receive up to $5 million from the Diversion Authority for its infrastructure projects. The Diversion Authority receives another partner in efforts to move forward with the project, whose latest cost estimate ranges from $2.8 billion to more than $3.1 billion.
"The check is not yet in the bank. Our infrastructure work is not happening tomorrow," said Horace Mayor Kory Peterson.
Horace, located less than 20 miles south of Fargo, is working on putting together a package of all its upcoming infrastructure needs. They could change as time goes by, Peterson said. The city is expected to receive two payments of $2.5 million.
Diversion Authority Chair Mary Scherling was unavailable for additional comment Thursday, Aug. 29. In a statement, the Cass County, North Dakota, commissioner said the diversion is a major facet of almost every community's long-range planning efforts in the region.
"We recognize the growth that the city of Horace has had in its community and we want to make sure we are helping foster its continued success," Scherling said.
The Diversion Authority Board unanimously approved the partnership on Thursday, Aug. 22. It was unanimously approved by the city of Horace on Tuesday, Aug. 27.
Horace has a population of between 2,800-2,900, Peterson said. Located in Cass County, it is in need of water, sewer and road updates. The city is also constructing a middle school and high school.
"We can't sock 'em with special assessments for everything," Peterson said. "This is a way to help."
Since 2012, upstream communities along the Red River of the North in Richland County, North Dakota, and Wilkin County, Minnesota, have been in litigation against the Fargo-Moorhead Diversion.
"It seems like Horace gave up a lot for very little," Richland County Commissioner Nathan Berseth said. "At the same time, I think Fargo has Horace where they want them or need them. As far as infrastructure needs, it doesn't seem like Horace had much of a choice."
The cost-share agreement could include assistance for the reorganization of water and wastewater services, the Diversion Authority stated. It also includes provisions for cooperation regarding the public-private partnership (P3) expected to construct and maintain a 30-mile diversion channel running adjacent to Horace.
Diversion opponents say $5 million is a paltry sum compared to the estimated $150 million spent in Oxbow, North Dakota, as well as the billions the diversion itself is expected to cost.
The Associated Press reported the Fargo-Moorhead Diversion will cost $2.8 billion. Attorney Cash Aaland, Fargo, said that according to Fargo City Commissioner Tony Gehrig, the present cost is actually $3.1 billion. Gehrig's figure is a low estimate, Aaland continued, and doesn't include the millions expected to be spent each year in maintenance.
All parties sat down and listened to each other's needs and concerns, Peterson said. Prior to the agreement, the city of Horace sent a letter to the city of Fargo requesting water and wastewater service.
Horace is expected to leverage the money it receives from Fargo to receive additional state and federal funding for its infrastructure work. Peterson reiterated that local projects affected by the agreement are not in the immediate or even near future.
Peterson also confirmed Horace was considering intervening in litigation against the Diversion Authority. Opposition and support to the Fargo-Moorhead Diversion has been an emotional topic for some time.
"We're trying as a city to protect our citizens," Peterson said. "Not everybody's going to like it and think that we knuckled under. Considering we came late to the game, I'm glad we were able to talk this out. It took a long time, but we talked it through."
Peterson said he's hopeful other diversion players can reach a mutually agreeable situation. Activity in recent weeks and months indicates a solution won't be soon:
• the Moorhead-Clay County Joint Powers Authority, with members from the Minnesota city and county, was established earlier in August; it was created to confirm both entities' support and involvement in implementing the diversion
• the Richland-Wilkin Joint Powers authority applied in July to intervene in a case involving the Buffalo-Red River Watershed District and the Diversion Authority; the authority is appealing Buffalo-Red River's decision to deny a diversion permit
• upstream and downstream parties are disagreeing over whether or not the Minnesota Department of Natural Resources granted a full permit for Plan B on the diversion in December 2018
The Minnesota department placed 54 conditions on the Diversion Authority. Permits from local entities are required for the diversion, the December decision stated.
Richland County and Wilkin County are following the progress of the Buffalo-Red River case, Berseth said. Aaland, who observed that Fargo leadership seem willing to outspend any opposition, is also keeping his eyes peeled.
"In my mind, the primary important for the F-M Diversion is about creating development for Fargo," Aaland said. "It's doing so by depriving Horace of their expansion room. Horace is giving up their territory just to enhance future development in Fargo."