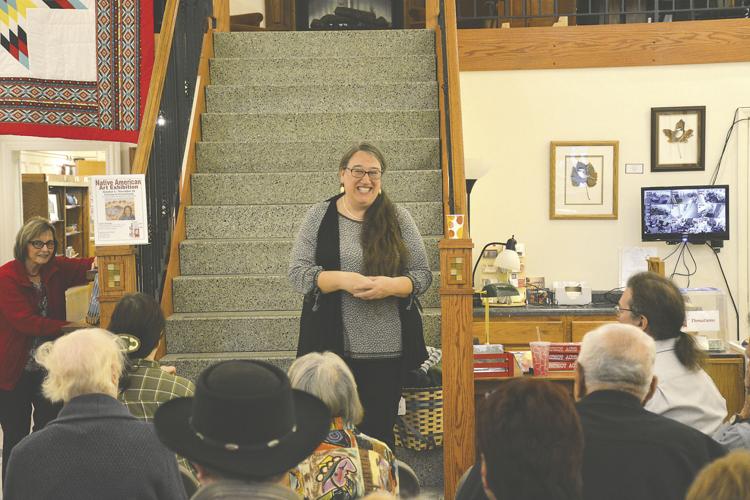 "I'm so proud of what the Erdrichs have built in our community, and other local and regional artists. It's really quite remarkable," said Dee Jensen, president of the Red Door Art Gallery's board of directors, during Thursday night's artists' reception.
The Native American Art exhibit up now features works from various members of Ralph and Rita Erdrich's family. Jensen welcomed guests, which included many immediate and extended Erdrich family members.
"As someone who's only been working as a volunteer here for four years, this is a dream for me," Jensen said. "I've known Rita, serving as secretary for collections committee, I think she's a lifetime appointment to that committee and has really been influential in what happens here at the gallery. More significantly, as awesome as this gallery is, is the family that she and Ralph have raised."
Jensen said as she walked through the gallery and looked at the exhibit, the first thing that came to mind was, "What a phenomenal legacy."
"The thing I liked the best about meeting these family members, is they are so humble," Jensen continued. "They are the most humble people and in so many ways, the most gifted. They've paid it forward in our community, they've paid it forward in their family and their neighborhoods, and they've shared their gifts with their children. The legacy continues."
Heid Erdrich spoke about her family and those in attendance.
"I'm (number) six of seven," she said of her siblings. "We have artwork here from my youngest sister, Angie, some artwork from some of my nieces and nephews, Alec, and Jules is my son, Eliza is my daughter, they have artwork here. We also have Aaron, he's going to share some of his musical art soon.
"My brother Louis, who is skilled in woodworking, besides gardening and krauting. My brother Mark in the back, practices the art of pharmacy," which got a laugh from the guests.
"My brother Ralph just walked in, if anyone went to school with Ralph they know he was a skilled cartoonist and note passer. Ralph is a nurse and a gardener, one of our stalwarts," Heid continued. "My sister Lise is here, Lise is a birchbark artist and one of the finest draftsmen in our family. She can create the most amazing works, both painting and drawing, and is actually a trained draftsperson as well."
She said her mother, Rita, credits her own grandmother, Eliza, as being the first artist in the family to sell her work and encourage others to make beautiful things.
"She made bead work and sold it on trains, that was a big part of how she helped support her family of 13, 13 kids," Heid said. "Dad is also a very capable visual artist and most people don't know that, so we got it from both sides. He's the writer in the family."
Lise Erdrich gave a lengthy and humorous introduction to her nephew, Aaron, before he played the traditional Native American wooden flute. She shared a list of 10 things about him, including that we was most determined taekwondo student she'd ever seen.
"Once he learned a move to score all the points on his opponents and go home with a trophy, he used them over and over again. It was predictable," Lise said. "I had to counsel him to never be predictable to his opponents, but it was a different town every time. It was almost comical to see him go after them like a can opener."
Their other sisters, Louise Erdrich and Angela M. Erdrich, were unable to attend the reception.
After the flute performance by Aaron, guests socialized and enjoyed refreshments.
"I hope all of you that have come feel as proud as I do, as fortunate as I do that we have the gift of the Erdrichs in our community, in Wahpeton," Jensen said.
The Native American Art exhibit is up through Nov. 16 at the Red Door Art Gallery, located at 418 Dakota Ave., Wahpeton.