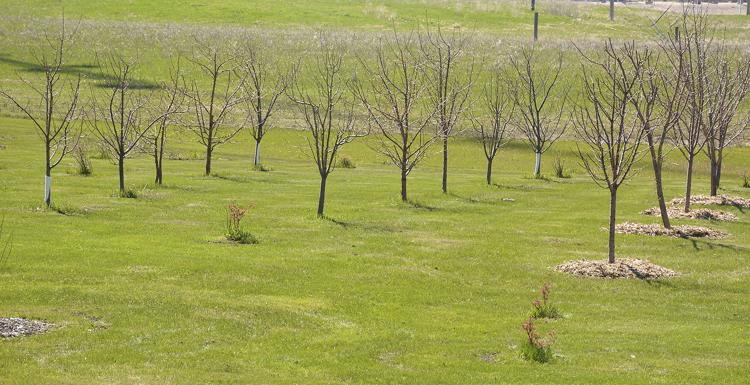 Wahpeton is once again a Tree City USA.
The city's commitment to effective urban forest management was singled out by the Arbor Day Foundation, which gave the award.
"Wahpeton also received a Tree City USA Growth Award for demonstrating environmental improvement and a higher level of tree care," the foundation stated.
Four requirements are necessary for being a Tree City USA: having a tree board or department, a tree care ordinance, annual community forestry budget of at least $2 per capita and an Arbor Day observance and proclamation. Arbor Day was celebrated Friday, April 26.
"Tree City USA communities see the impact an urban forest has in a community first hand," said Dan Lambe, president of the Arbor Day Foundation.
The program is sponsored by the Arbor Day Foundation, U.S. Forest Service and National Association of State Foresters.
Wahpeton's continued involvement in the Tree City USA program is part of city-wide efforts to beautify and sustain its land. Residents like Clyde Hughes, Wahpeton, are noticing that spring is finally gaining traction.
"The grass is greening up, trees are budding out, spring flowers are beginning to bloom and people are emerging from their winter dens, eager to be outdoors more," Hughes said.
What those citizens might not know is that Wahpeton has a fruit orchard containing over 130 trees and shrubs. The orchard contains cherries, apricots, plums, pears, apples, currants and more.
Several years ago, Hughes said, the Wahpeton Park District began planting fruit trees in Kidder Park. They're located just to the west of the Whopper the catfish statue.
In 2017, Hughes noticed the trees were overgrown, tangled and generally needed care. Although not a professional, Hughes offered his services to Wahpeton Parks and Recreation Director Wayne Beyer.
"In late summer, I began by propping up a few trees which were not growing upright," Hughes said. "As last spring approached and while the trees were dormant, I began the task of shaping the trees."
Selecting certain limbs to define the main structures, Hughes followed up by trimming crossing and drooping limbs, removing excess interior branches and generally working to encourage more outward growth.
"I also reduced the overall height of the taller trees in order to create a more urban 'walking orchard' which is largely accessible from the ground," Hughes said.
This year, Hughes was surprised to find several fruit trees along the walking path in Wahpeton's south side Airport Park. He began removing diseased limbs from some chokecherry trees.
"Flooding kept me out of the main orchard in Kidder Park for a time, but I will soon be finished with early season pruning," Hughes said.
The spring season is often characterized by gardens and new planting.
Earlier this month, North Dakota Agriculture Commissioner Doug Goehring said homeowners should check plant hardiness zones and seek expert advice in some cases before buying and planting nursery stock for their property.
The North Dakota Department of Agriculture receives numerous complaints every year from both consumers and dealers about non-hardy stock being sold in the state.
"Most of the complaints involve larger stores that are headquartered in other states," Goehring said. "It seems the purchasing agents for these stores are sometimes unaware of North Dakota's growing conditions or of our state's labeling law for trees and shrubs."
State law requires all trees and shrubs designated as non-hardy by the agriculture commissioner to be labeled as non-hardy. The penalty for not doing so is up to $500 per incident, with repeat violations resulting in denial of a nursery license.
Non-hardy plants and shrubs include emerald arborvitae, dwarf Alberta spruce and eastern redbud, Goehring said.
Hughes' future plans include locating a beehive in a remote area of Kidder Park. The bees will benefit both the orchard and nearby community garden. Hughes asks the public to not bother the bees.
"They are performing an important role in growing local sustainable food and helping to combat the loss of our crucial pollinators," he said.
All residents and visitors are encouraged to view Wahpeton's parks and walk through the orchard. Hughes looks forward to sharing information about tree health and when fruits are ripe.
"I hope you all enjoy this wonderful resource," he said.