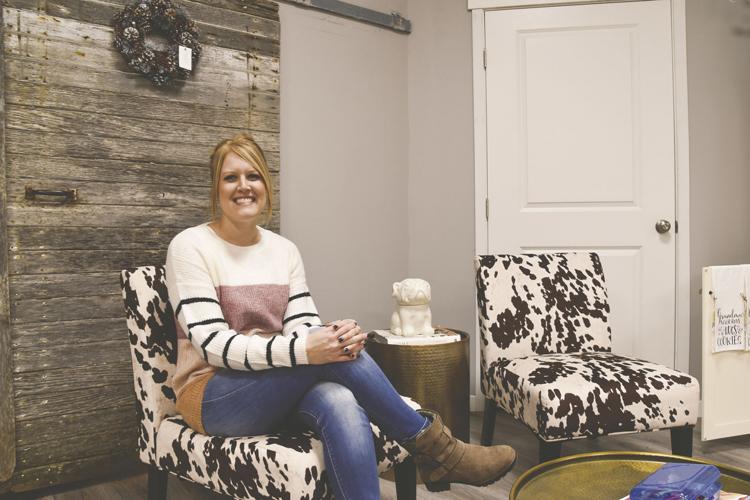 Editor's Note: In this month's Point of View, we asked area residents to grade their communities.
Living in a small city isn't for everyone, but for those who do live, work and learn in Breckenridge, Minnesota, they have been able to find all the joys through it all.
We set out to determine what people throughout Breckenridge thought of the city. Overall there were pleasant responses indicating they enjoyed the community and its most attractive quality was the people and relationships.
Jana Sipe Berndt, director of consumer banking of Bremer Bank, has lived in Breckenridge for 35 years. Her favorite part about living in Breckenridge is the "hometown feel" and the relationships. Throughout the community everyone cares about each other and takes care of each other.
Morgan Larson is originally from Lincoln, Nebraska, where she is used to living in a much larger city. In the city of Lincoln, she had easy access to many different options from restaurants to activities. This change has been a huge change for her but overall likes it here. Larson has lived in the area for three years now and is satisfied with her move.
"Everyone is really nice here," Larson said.
If her friends and family were to visit her she would bring them out to eat at The Wilkin Drink & Eatery, as its her favorite restaurant in town. She would also bring them throughout the town and stop at some of the small shops. Larson is also very pleased that Breckenridge has a movie theater to offer.
Larson is a student at North Dakota State College of Science in Wahpeton where she studies dental hygiene. Larson works at the Breckenridge Elementary School with kindergarten students.
Tracy Bommersbach is a kindergarten teacher at Breckenridge Elementary. Originally from Audubon, Minnesota, she's no stranger to living in a small town. After receiving her college degree at Concordia College in Moorhead, Minnesota, she began her first teaching job in Breckenridge in 1990. She has now been teaching for 30 years at Breckenridge and has lived in the city for 17 years.
"I just love the feeling that this small town has to offer and I love being able to bike around the streets. The trees and flowers are so beautiful here in the spring and fall. It's a very warm feeling," Bommersbach said.
The new bike path along Highway 75 has been a really nice addition to the city, Bommersbach feels, saying she has been using it even while it was under construction.
Bommersbach enjoys riding her bike down the path and to CHI St. Francis Hospital wellness center in Breckenridge. She is very pleased that the town has that service to offer and said the pool is one of her favorite accommodations.
Bommersbach enjoys spending time at home with her family, but when she does out in the city she enjoys going to The Wilkin and also goes to the cinema.
She also shared with us a little known hideaway spot for residents and visitors to go: Lake Breckenridge. Eastbound from town you can find a small lake hidden by trees and homes that has a small dam, bridge and a picnic area.
Bommersbach also really enjoys having Wahpeton so close by, it feels like one big community. Even though Wahpeton is across the river, both communities can share each cities restaurants, stores and other amenities.
"I love being a part of the Breckenridge community and the Breckenridge Public School," Bommersbach said. "Together we can make this a great place for kids to learn and grown."
Nellie Olson lives in the country outside of Breckenridge, although she owns Drifter Chic in downtown Breckenridge. She has owned the business since April 2018.
"I love the people here, it's really great owning a business here," Olson said. "I just knew I wanted to be in a small town and not a large city."
Being a business owner, she has met many people and their kids from around the community. She enjoys talking with customers and learning about life in Breckenridge. Working in Breckenridge has been very rewarding for her. 
Breckenridge Mayor Russ Wilson has been the mayor for three years and has enjoyed every moment of it. After he retired, he decided he wasn't ready to stop moving and felt that it would be an honor and a reward to serve the great citizens of Breckenridge. He hopes to continue serving as mayor for many years to come.
"I find it very rewarding and I enjoy it. It's an extremely rewarding service. I think everyone should run for office and be a part of public service," Wilson said. "I work for great people and I get to work with a great group of people."
Restaurants received an A, The Wilkin provides the community with a locally owned business that brings in people from all around the surrounding area.
Outdoor activities received an A, the trees, swimming pool and new bike path and lighting has provided a great way spend nice days in the community.
Entertainment receives a C, the cinema is nice for a small town but there aren't many other opportunities for entertainment.
Businesses received an A, business owners are happy with their customers and citizens are happy with options. Although, many stores they were pleased with were in Wahpeton.
If A+ was an allowable grade, then community feel would get an A++. Residents and businesses were overly pleased with how warming the community is and how friendly the people who live in the city are.
There we have it. Breckenridge's small shops, local restaurants and welcoming neighborhood town offer a great home for many residents in the city. The most common quality spoken was how great the people are. The words used most with the interviewees were "welcoming," "helpful," and "friendly."
The city of Breckenridge offers many amenities, but its strongest quality is a hometown, warm and welcoming feeling.