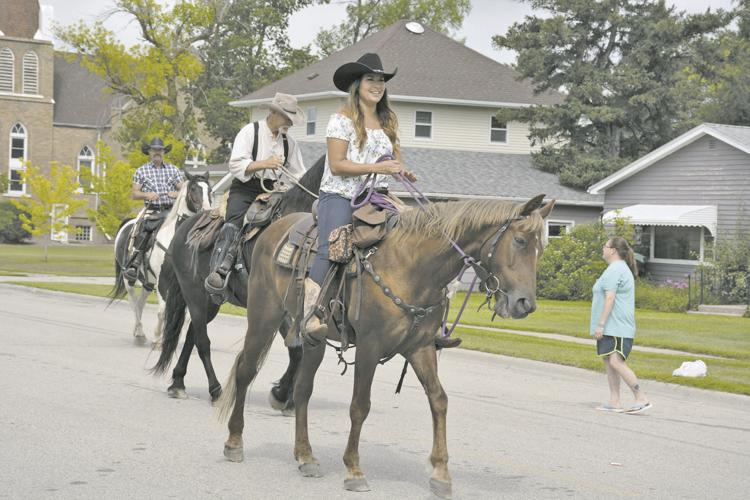 Aber Days is coming to Abercrombie, North Dakota, from Friday, Aug. 2-Sunday, Aug. 4.
It kicks off with a picnic in the park from 5:30-7 p.m. Friday with Steve Worner, the "One Man Band," performing.
Saturday, Aug. 3 starts early with a 7 a.m. breakfast in the park.
Two 5K events are scheduled for Saturday morning. The first 5K walk/run begins at 8 a.m. and the youth 5K begins at 9:30 a.m.
No Aber Days event would be complete without a parade. The kiddie parade begins at 10:30 a.m. followed by the 11 a.m. full parade.
Afternoon events include a digital scavenger hunt and the little Mr. and Ms. crownings. The Aber Days Rodeo starts at 5 p.m., with tickets costing $12 for adults, $8 for children ages 6-12 and free for children 5 and younger.
The evening comes to a close with a street dance from 8:30 p.m.-12:30 a.m. in downtown Abercrombie. Music will be provided by Silverado and tickets are $10 per person. Admission is free for ages 5 and under.
Sunday will include a 10:30 a.m. all faith worship service, followed by a potluck lunch.
Fort Abercrombie Historic Site has events throughout Saturday and Sunday. Faylin Myhre, assistant site supervisor, gave some details.
There will be a tin plate photography booth by Lincoln Nybladh from 9 a.m.-4 p.m. on both Saturday and Sunday.
"We have a couple of period costumes people can put on and have their photo taken with him," Myhre said.
Blacksmith Michael Quade will come and have a demonstration at his booth both days as well.
"We have a tin smith," Myhre said. "He makes metal items the way they would have, his family dresses in period costume and he sets a booth up out here."
Karl-Josef Schmidt has an Etsy store called Dakota Tin Works and is an instructor at the North House Folk School.
Historical authors Mattie Richardson, Jan Smith and Candace Simar will all be on site from 9 a.m.-4 p.m. both days. They will sell and sign books.
"Candace Simar has written a series called 'Abercrombie Trail,'" Myhre said. "The first one in that series has to do with the stage coach that comes into Fort Abercrombie and is based on her great-grandfather's diaries."
Carrie Newman will have Civil War Sewing Demonstrations from 9 a.m.-4 p.m. both days.
On Saturday only, there will be a 5th Minnesota Infantry Civil War Encampment from 9 a.m. to 4 p.m.
"They'll do drills and kids and adults can join in and do the drill with the soldiers if they want," Myhre said. "They have their tents set up and you can ask all the questions you can think of."
Starting at 2 p.m. Sunday, there will be a history program with several guests speakers including Tamara St. John, Candace Simar, Carrie Newman, Jan Smith and Lincoln Nybladh. Mattie Richardson will provide special music.
Standard history tours of Fort Abercrombie are available, $8 for adults and $3 for children ages 6-15, Myhre said.
Check out the Fort Abercrombie State Historic Site's Facebook page for more information.