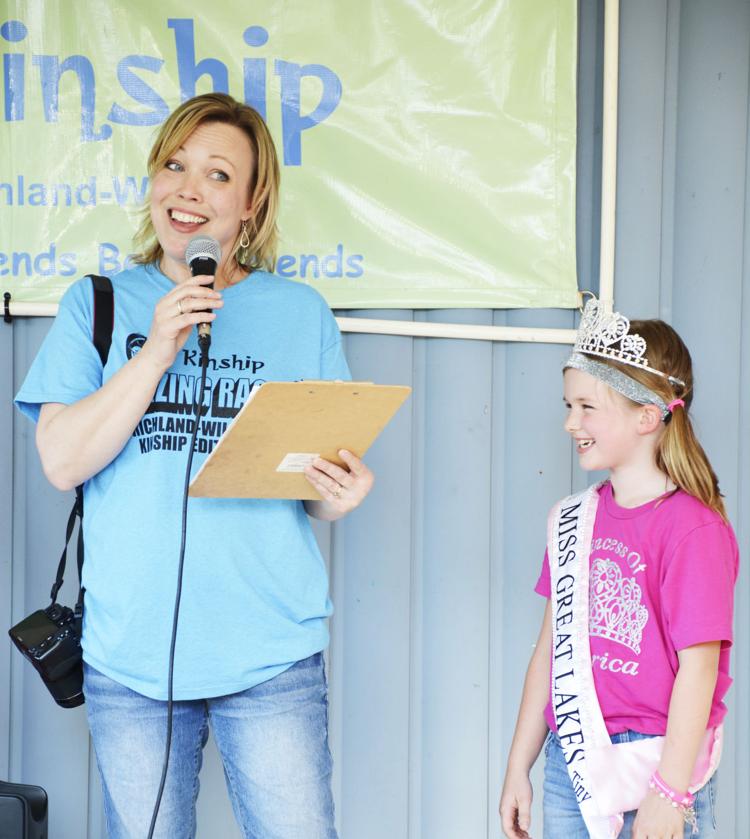 Richland-Wilkin Kinship's is bringing back one of its most popular events this spring.
The 13th Annual Amazing Race will be held Friday, May 31. Taking place on the first night of Blue Goose Days, the Amazing Race is designed to create lasting, fun memories for its participants.
"This is our signature fundraiser," Director Rebekah Christensen said. "It's really meaningful to us and we appreciate the people who do it."
Starting at approximately 6 p.m., teams for 4-6 family members, friends and co-workers will take a unique journey. The Amazing Race is open to competitive and family racers.
The teams travel 3.5 miles total, occasionally on foot but mostly on bicycle. They stop for unique but not intimidating challenges.
"Some are more intellectual in nature and some are more physical in nature," explained Assistant Director Jeff Bass. "Part off the fun is that they don't know what the challenges are in advance."
It helps level the playing field, Christensen continued.
"It's not necessarily the people who are the most athletic that are going to win," she said. "That's what brings out the most fun stories."
The preferred decline for team registration is Wednesday, May 15. Early registration allows team members to receive an official shirt, which helps race judges better identify leaders and winners.
Registering early also allows organizers to have medals for the participants. The minimum amount a team must provide for registration is $250, due on Friday, May 31.
"You can register without having your money raised yet," Christensen said. "For a team of six people, that's just over $40 each. Talk to your neighbors, talk to your grandparents — it can be done."
Registrations can be made by visiting www.rwkinship.org/raceregistration, calling 701-672-0303 or e-mailing rwkinship@702com.net.
"All proceeds support local youth mentoring," Kinship reminds anyone interested in racing.
The race often takes participants through Wahpeton and Breckenridge, Minnesota. Safety is always a priority.
"One of our great ways of keeping community engagement in the event is by having other organizations and businesses sponsor the challenges," Bass said.
Kinship's Amazing Race is sponsored by Bremer Bank, Cargill, Norby Krueger, Smith Motors, Essentia Health, Otter Tail Power Company and Minn-Kota Ag Products.
"How crazy is it that we've been doing this for 13 years?" a delighted and proud Christensen asked.
Newcomers are always encouraged to join the race.
"In our family division, we do need someone who is 12 and younger. In our competitive division, teams must have someone 16 or younger. We want to keep this a family-friendly event," Christensen continued.
Amazing Race participants will enjoy a picnic in Chahinkapa Park and an assortment of prizes. Prize packages are not guaranteed, but in most years, there's been enough packages for every team.
"It's such a win-win," Christensen said. "Everyone gets a t-shirt, medal, picnic meal and part of the prize package."
Prize items are intended to lead to other fun experiences.
"We want things you can do together, having quality time," Christensen added. "The biggest thing is the memories you're creating."
Look to Daily News Media, in print and online, for coverage of Kinship's Amazing Race and other Blue Goose Days events.