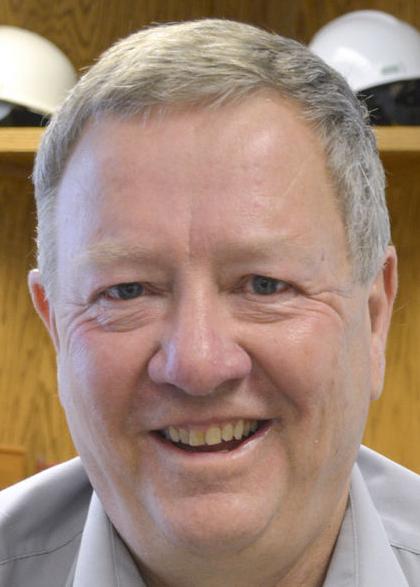 After 42 years with Minn-Dak Farmers Cooperative, Tom Knudsen is retiring.
Knudsen, Minn-Dak's vice president of agriculture, is officially retired on Monday, June 3. Minn-Dak was not only the 65-year-old's first full-time employer, it was his only full-time employer. He joined Minn-Dak just prior to completing his education at North Dakota State University.
"I had not even done my final testing when the interviews were held here in 1977," Knudsen said. "My first day on the job was during finals week. That was a little crazy, doing them both."
Born and raised in Abercrombie, North Dakota, Knudsen has been married almost as long as he's worked for Minn-Dak. He and wife Kate married in June 1977. The Knudsens have three children and six grandchildren.
When it comes to retirement, Knudsen said, the things he won't do are piling up.
"I'm not driving a beet truck. I'm not working on a piler. I'm going to hide for at least a year and see what that feels like," he said.
Getting away from e-mails, text strings, interviews and everyday responsibilities is something Knudsen is looking forward to.
"My favorite time of year has always been in September and October," he said. "Guess what happens with this job at that time of year? It's the total chaos called sugar beet harvesting."
The chaos is total, but controlled, Knudsen said. He is confident his successor, Mike Metzger, will be successful. Metzger, a research agronomist, was promoted to Knudsen's position last month.
"We can't have two vice presidents of agriculture, so they solved this in a novel way," Knudsen said.
Knudsen's current title is vice president of agriculture (STR). The portion in parenthesis stands for "soon to retire."
"It's not 'emeritus,' since we're not an academic institution," Knudsen said. "The walls are getting bare, the cupboards are getting bare. I'm cleaning up to clear out to move out."
Metzger, in a statement, said Knudsen has not only decades of hand-on experience, but the memory of an elephant.
"Tom has always been able to see the big picture and keep things simple," Metzger said. "It's one of his greatest attributes. No matter how complex the task we were trying to tack, Tom was always able to whittle it down to a clear purpose or direction and it was usually the correct one."
Knudsen, who hired Metzger in 2001, watched him earn both a Master's degree and a PhD.
"We have a well-educated PhD on staff. It's quite a process and we're very proud of that," Knudsen said.
As manager of Minn-Dak's agriculture department, Knudsen oversaw the responsibilities of raising, harvesting, storing, delivering and processing the sugar beet crop.
"Truly, for 12 months, you're doing something with the crop," he said. "Last year got a little excessive for everybody, going to July 5. Our normal (end of processing) date is some time in May. We've gone to June 5-6 before. But July 5 was a little crazy."
Minn-Dak expects to complete its year on either June 1 or 2, Knudsen said. It's an achievable goal.
"Our trucks are off the road now. Everything's inside. We'll be moving into one of our three storage sheds probably on Saturday (May 11). As everybody knows, it's not been a very warm spring. It works in our favor for spring, not so much for getting the '19 crop in," Knudsen said.
Since 1977, Knudsen has seen Minn-Dak succeed and innovate. A multi-year, highly-planned expansion in the 1990s was an achievement. He is equally proud of colleagues who have stayed with the company.
"It's just fun to watch people in your department grow and do well," Knudsen said.