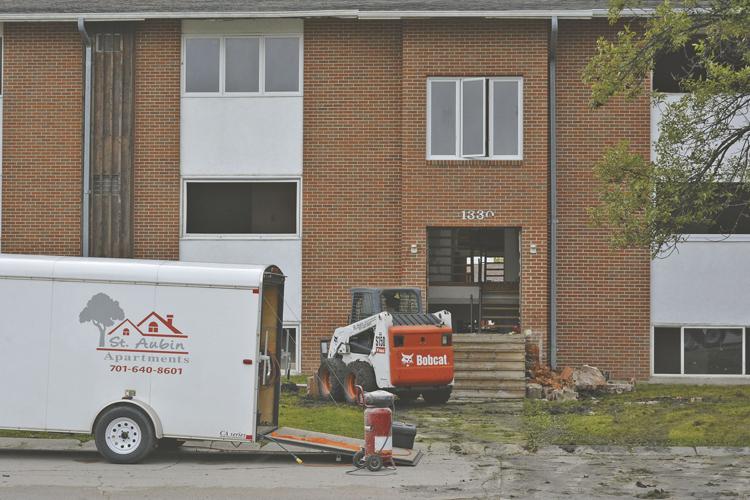 The former Asbury Apartments, located at 1340 and 1330 12th St. N. in Wahpeton, are being completely gutted.
Clearance began Tuesday, Oct. 1, immediately after Joe St. Aubin's purchase was completed. The two-building, three-story, 24-unit complex will be known as the Huskie View Apartments.
"We're not going to keep much other than the main structure," said St. Aubin, 43, Wahpeton. "Everything's going to be brand new."
The property's windows and exterior doors are being removed. By midday Thursday, Oct. 3, approximately 90 yards of garbage had been cleared from garages.
St. Aubin, who hopes to have the Huskie View completed by June 1, 2020, said he'd only be guessing if he tried to put a final price tag on his project. He purchased the complex from Eusebio Mendoza, 90, Fargo.
In May 2015, a fire destroyed several of Asbury Apartments' parking garages. Years later, residents and Wahpeton officials expressed frustration with the level of maintenance and upkeep for the complex's interior and exterior. The property is located across the street from Wahpeton Elementary and Wahpeton Middle School.
"I think the biggest issue, when we've talked to the owner before, is that he's not aware of what's going on," City Building Official Todd Johnson said in July 2019. "He doesn't live in town, he doesn't see the day to day activities and he's so out of touch with what's going on over there."
Nineteen of the Asbury's 24 units were occupied when he signed a purchase contract in August, St. Aubin said. The complex is nearly unoccupied.
"There are two people left that were supposed to have left before now," St. Aubin said. "It's up to the previous owner's attorney to get them out."
Attorney Nicholas Nelson, Wahpeton, was unavailable for comment. Assistant City Attorney Brittany Hatting said her office has not been involved in the two occupants' situation.
St. Aubin showed Daily News an unoccupied apartment. It included abandoned property and debris, including furniture, clothing, a kennel and animal feces.
"They stink. They're full of garbage," St. Aubin said. "(There's feces) all over."
When Daily News visited the Asbury in July, residents in one apartment displayed a kitchen sink with no attached pipes.
"If you push onto the living room window, it will fall from its unsealed position. The heaters are still on, resulting in 'hot as hell' bedrooms. Flies and mosquitoes are common," Daily News previously reported.
St. Aubin is almost starting from scratch with the Huskie View.
"We're getting new windows, doors, balconies, entries. Everything on the inside's going to be new other than the subfloor and some of the drywall," he said.
Huskie View neighbors the Huskie Run Apartments, purchased and renovated by St. Aubin Apartments Central, LLC in 20017. Previously known as the Windsor Park Apartments, the Huskie Run complex was once owned by Mendoza and eventually his ex-wife.
"I've got 20 properties, 209 apartments after (Huskie View) is complete. They're all on the north side of Wahpeton," St. Aubin said.
The Huskie View is in a neighborhood receiving attention for its building projects and housing.
Construction of the Wahpeton Agriculture Education Facility continues on the nearly Wahpeton High School campus. The facility is possible through a partnership among Wahpeton Public Schools, Southeast Region Career and Technical Center and North Dakota State College of Science.
A few streets north of the Huskie View are the Northland Apartments complexes. Northland residents and city officials are seeking more information about a proposed buyer's intentions with the rent structure and current occupants.
St. Aubin Apartments Central's properties include The Courtyard, formerly known as Community Homes.
"It's 100 percent occupied. The Huskie Run is, too. Pretty much everything I have is occupied," St. Aubin said.