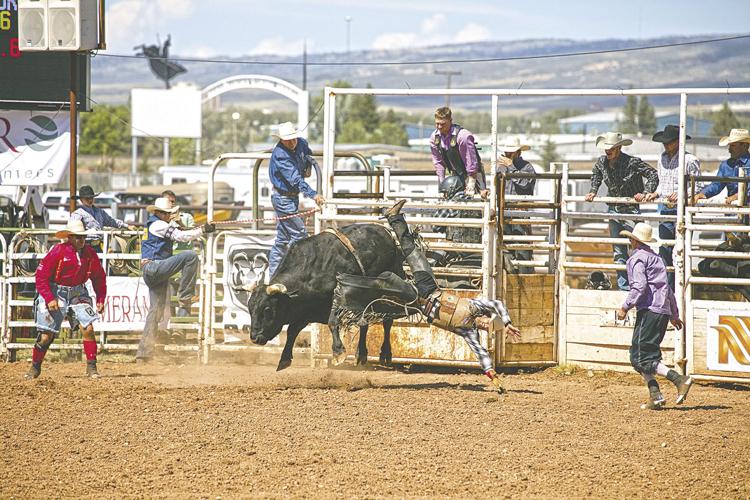 The "BBQ-Farming Fun Fest," Wahpeton's third of four 150th anniversary celebration weekends, kicks off Friday, Sept. 13.
Having a fall festival has been a longtime dream for Wahpeton Community Development Director Chris DeVries. The Fun Fest, like previous sesquicentennial weekends, has events expected to be staples for future celebrations.
"We're planning to make the bull riding the anchor for the next festivals. I love this time of year and for sure this coming weekend, we'll have something that can be carried on," DeVries said.
Temperatures in the Twin Towns Area are forecast to reach a high of 68 degrees Fahrenheit on Saturday, Sept. 14. The weather is expected to be mostly sunny.
"So much depends on weather," DeVries said. "Winter Wonderland, in February, a lot depends on the weather we get. It can be tough to get things organized."
The BBQ-Farming Fun Fest includes activities throughout Wahpeton, on campuses and at downtown landmarks.
Daily News has the final schedule of BBQ-Farming Fun Fest events. All are located in Wahpeton.
Friday, Sept. 13
"Remembering the Wops" football tailgating, 5 p.m.-kickoff: The Wahpeton Huskies, formerly known as the Wahpeton Wops, face the Beulah Miners. Homecoming and tailgating takes place at and in the vicinity of Earl "Skip" Bute Alumni Stadium, located on Frank Vertin Field on the North Dakota State College of Science campus. The stadium is located along 14th Avenue North.
Saturday, Sept. 14
"Pages Ago" open, 9 a.m.-1 p.m.: Recall the history of Wahpeton. Browse old newspapers dating back to the early 1900s. Enjoy reminiscing with friends and share a story for the memory wall. Pages Ago is located at 521 Dakota Ave., with entrance on Sixth Street South. Its regular hours are 9:30 a.m.-1:30 p.m. on Tuesdays and Thursdays.
Wahpeton Wrestling Golf Scramble, begins at 9 a.m.: Held at the Bois de Sioux Golf Course, 1305 R.J. Hughes Drive.
Red Door Art Gallery open, 10 a.m.-4 p.m.: The gallery, located at 418 Dakota Ave., is the 150th anniversary headquarters. Artwork on display includes pieces celebrating the beauty of agriculture.
Gallery on the Go, 1-3 p.m.: Tami Sirek will offer an art project that anyone can join in at Heritage Square, 500 Dakota Ave.
Classy and Classic Car Show, 1-5 p.m.: Automobiles of all types will be on display in downtown Wahpeton. The event also includes a chance to celebrate agriculture's role as a cornerstone of the Twin Towns Area.
Twin Town Gardeners Market, 1-5 p.m.: This summertime staple will be held during the Fun Fest. Unlike the weekly market, the upcoming event will be held further downtown and not at the parking lot shared by Family Dollar and Sears.
Richland County Historical Museum open, 1-4 p.m.: Guests can view the "Big Book" registry, see vintage photos and check out the displays during special visiting hours. The museum is located at 11th Seventh Ave. N.
Downtown BBQ, 4 p.m. until gone: A free barbecue meal, including sloppy joes, chips and pickles.
Bull Bash, 6 p.m.: A bull riding event and fundraiser for the all-volunteer Wahpeton Fire Department. Held at the Alumni Stadium complex on the NDSCS campus. Gates open at 5 p.m. Proceeds go toward purchasing and upgrading fire department equipment.
In addition to the activities, the Fun Fest is also furthering the Wahpeton 150th gun raffle. Tickets for the raffle cost $5 each.
Wahpeton Public Schools will also host a downtown event on Saturday, Sept. 14. The district is honoring inaugural members of its hall of fame.
They are businessman and philanthropist Robert Hughes; retired Chicago Bears and Pittsburgh Steelers player Art "Tony" Anderson; national motivational speaker Dr. Paul Radde, Ph.D; former high school principal and District 25 representative Clark Williams and community activist Roger Jensen.
City Brew Hall will hold an 11 a.m. luncheon. Tickets are $25 and are available at the school district's office or from alumni association members.
Wahpeton's sesquicentennial celebrations conclude with "Thanks For 150 Years," scheduled for Friday, Nov. 29-Saturday, Nov. 30.
Look to Daily News, in print and online, for coverage of Fun Fest events. Celebration photos from throughout the year can be seen at www.wahpetondailynews.com.