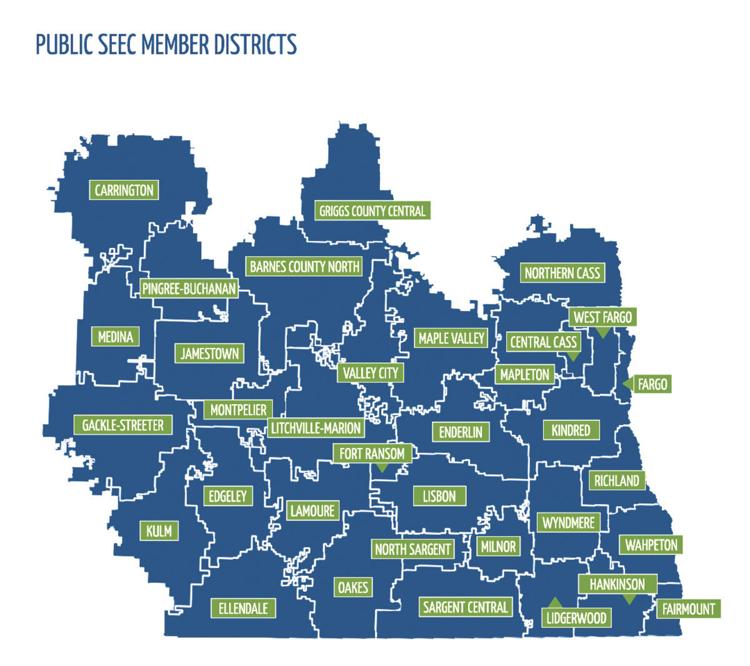 Wahpeton Public Schools leadership is questioning the value of being in the South East Education Cooperative (SEEC).
Between $23,000-$24,000 is deducted each month from Wahpeton's per-pupil payments from the state of North Dakota, Superintendent Rick Jacobson said. That money goes to SEEC, who ended the 2018-2019 education year with between $320,000-$350,000 in unused funding from the year. The carryover money is on top of an estimated more than $1 million in reserve funding.
Despite all of the cash on hand, Jacobson said SEEC isn't interested in helping pay for district inservice days. Wahpeton Public Schools is also paying separately for SEEC's services including training, Jacobson said during a Wednesday, Aug. 14 school board meeting.
The gap between money coming in and money coming out, as well as the questionable value of a membership, has leaders frustrated.
"What does that buy us if we have to pay for everything?" Board Director Jake Kubela asked.
"That's the million dollar question," Jacobson said.
"We are paying to be able to buy things?" Kubela continued.
Paying a fee is one thing, but Jacobson also disagrees with tactics like SEEC charging attendance to meetings and conferences.
"One thing that irritates me is that they're having a surplus of money and they don't want to do anything with it and they hold the purse strings," Board Director Mike Hauschild said.
Wahpeton Public Schools is one of 36 total partners in SEEC. The cooperative is one of seven regional education associations (REAs) in North Dakota.
There is a difference of philosophy regarding REAs, Jacobson said.
"Their business model is to make money," he said to board directors.
"Are they a for-profit?" Kubela asked.
"They're not supposed to be," Jacobson said.
As for inservice days, Jacobson disagrees with SEEC's position that providing financial assistance isn't beneficial.
"Go tell the 500 teachers that are there that it's a waste of time," Jacobson said. "We've got to work through this."
North Dakota state Sen. Kyle Davison, R-District 41, is SEEC's executive director. While Davison could not confirm figures given in Wahpeton, he did confirm SEEC's attitude toward funding inservice.
"If we start covering Wahpeton's professional days, we'd have to do that for everybody. It's not what we do. Our mission or our goal is not to write checks for schools. We just don't. It's not a service we provide, providing grants to schools," Davison said.
According to Davison, SEEC has 25 full-time employees and about 100 part-time employees.
"We use our reserve funding like a school district," he said. "The districts keep about 15 percent. Like school districts, we gotta have cash flow."
Wahpeton's contribution to SEEC from per-public funding, Davison said, is .002 percent of the district's payment from the state. If Wahpeton wasn't part of a regional education association, it wouldn't get to keep that money. The amount would go to the state's general fund.
The Wahpeton Public Schools-SEEC relationship has had successes. Both sides mentioned how well they worked together regarding Medicaid for special education students. But there's still issues of serving members and general lack of information.
"What are the odds of getting this fellow down here so we can ask some questions?" Hauschild asked. "From a budgeting standpoint, how are you benefitting us? Why should we waste money on something that doesn't benefit us?"
Davison said he'd be happy to visit Wahpeton.
Board Directors Art Nelson and Susan Rittenour were absent from the meeting.
The next Wahpeton Public Schools board meeting is scheduled for 6 p.m. Wednesday, Sept. 11. Board meetings are held at the district office within Wahpeton High School, 1021 11th St. N. in Wahpeton.