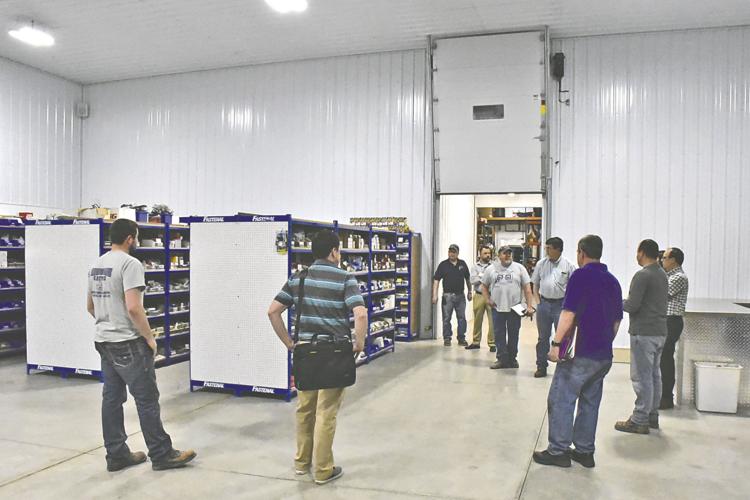 The Breckenridge Port Authority Board toured Summerville Electric in Breckenridge, Minnesota, to kick off their meeting Wednesday, April 24.
The business has been the recipient of several loans through the Port Authority, with a Tax Investment Fund loan most recently that helped fund the expansion of their footprint at 110 Third Street S.
Nathan Summerville gave the tour before speaking about the company.
"My dad started the business in 1985, with a building over to the south," he said. "Some of the services we do include residential, commercial, industrial, farm stuff, underground trenching, locating, fault finding, data cabling, we can take care of that. Hazard monitoring, that's something we do in grain elevators that monitors the temperatures and has become a big safety thing."
The company also sells and maintains generators.
"We also have a large inventory and want to express that we are open to the public, so anybody can come in and buy anything they want. Anything that's here is for sale," Summerville added. "As far as farmers, cord ends, cords, all of that stuff is available. We do sell motors and we do fix motors up to a certain size otherwise we outsource if it gets to be too big."
The family-owned business does design build, as well, for people who need an electrical plan for their project.
Summerville Electric employs 25 people with 12 residing in Breckenridge, five in Wahpeton, and one each in Fargo, Fergus Falls, Weetown, Moorhead, Dalton, and Clitherall, Minnesota.
"It's interesting to see who comes to town to work here," Summerville added.
Board member Dennis Larson asked if the company gets any inquiries regarding wind and solar power.
"We don't have much experience with it," Summerville answered. "With ag stuff, it 's so seasonal, that when they do need the power, it's nothing solar can power anyways. There's a lot of solar in a lot of areas but we just haven't dipped into it yet."
He said many of their clients are return customers, which is a testament to the quality of work and service the company provides.
Board member Scott Nicholson asked about the employees who live out of town, why they haven't moved to town or if they're interested.
Summerville said many had family in those towns and wanted to stay where they were, although the 12 who do live in Breckenridge is an all-time high for the company.
"It's by far the most we've ever had," he added.
Summerville said most of the workers have at least a two-year degree in electrician work, and they have about six at journeyman level, with his father, Tyler, at the master electrician level.
After a few more questions, Summerville said the company is appreciative of the assistance the Port Authority has been able to provide over the years.
"We're never looking for handouts, but we're glad we had help to let us do what we wanted to do," he said.
In other news, Justin Neppl, executive director of the Southern Valley Economic Development Authority (SVEDA) gave an update.
"It's been a pretty busy couple of weeks. I'm still visiting with some leads that are interested in Breckenridge, continuing to follow those up," Neppl said. "I went down to the CVN event on April 12, that went really well. I think there are four or five companies that make sense for this area, there will be some maybe disqualified over time just because resources, such as natural gas, just won't be a good fit. It would be a high natural gas user. But we'll continue to work on those leads."
Larson asked if Neppl is regularly running into the issue of companies who need an uninterrupted supply of natural gas and Neppl responded, "Big time. A business that's a natural gas user isn't going to come in here because they can't go offline for 24 hours. They need to be able to have steady access."
"Maybe that's something we need to investigate," Larson said.
Bringing uninterrupted natural gas to the city would mean running a new line from Fergus Falls, it was explained.
"I'm learning a lot about this as well, but it's significant. It (the lack of the resource) will be prohibitive on any large processing plant coming in," Neppl said.
The board reviewed March financials. The cash/investment balance is at $57,362, and MIF fund balance was at $810,803.05 as of March 31.
Discussion about the Stop 'n' Go property, going through a voluntary foreclosure process, included bids for the phase I assessment on removal of the underground fuel tanks. Bids were from WCEC at $1,675, Braun Intertec at $1,995 and Caltha at $2,150. No action was taken.
The next meeting will be at 4 p.m. Wednesday, May 8.