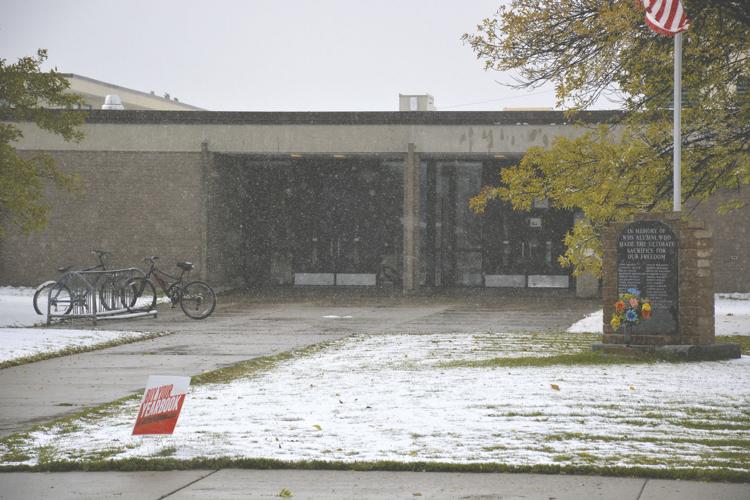 It's uncertain whether or not the Wahpeton Public School District bus involved in a Thursday, Oct. 10 accident will be repaired or considered a total loss.
The bus received damages to its front and passenger side entrance door. Approximately 30 students were aboard, but none were believed to have received a serious injury.
Wahpeton Public Schools Superintendent Rick Jacobson is waiting for an assessment of the vehicle from the district's insurer.
"As of right now, we do have enough buses to deal with day to day busing," Jacobson said Friday, Oct. 11. "If our buses are consistently going down, we might have to buy another vehicle."
The accident, involving the bus and a Ford passenger vehicle, occurred during a rain storm. Jacobson, who also drives a bus for Wahpeton Public Schools, said the district continues to monitor weather conditions.
Richland County, North Dakota, was among the counties in a winter storm warning lasting on Friday. Visibility and road conditions are two factors that Jacobson and his fellow drivers pay constant attention to.
"We do have to slow it down (when driving). The gravel roads are extremely wet and the township roads are slick. It's about adjusting our speed and taking our time," he said.
Capable of seating 84 passengers, the damaged bus was a 2004 vehicle. Wahpeton Public Schools purchased it as a used vehicle. The district is expected to soon determine whether it will be permanently replaced or if one of the spare buses will continued to be used.
"On our bus replacement schedule, (the damaged bus) was going to be moved to a spare for next year," Jacobson said.
A new school bus is expected to cost more than $100,000, an expense Jacobson said is not currently affordable. He's also skeptical that the damaged bus will receive much in terms of insurance reimbursement.
Wahpeton Public Schools plans to stick with having two built-in storm days on its education schedule.
"It's a definite help to us when we enter the real winter," Jacobson said.
During its Wednesday, Oct. 9 meeting, the Wahpeton School Board approved an alteration to the financing for its expanded Wahpeton Agriculture Education Facility. Located on the Wahpeton High School campus, the project is a partnership among Wahpeton Public Schools, Southeast Region Career and Technical Center and North Dakota State College of Science.
"We'll be working with PFM out of Fargo," Jacobson said. "That was was recommendation which came from our finance committee. The project is on school land, meaning we have to finance it. The vocational center cannot."
Richland 44 High School in Colfax, North Dakota, also held a school board meeting Wednesday, Oct. 9. Superintendent and high school principal Dr. Britney Gandhi said the district approved its final 2019-2020 budget, approved an evaluation template for her and is considering re-establishing its speech program.
Richland 44 is scheduled to hold its next school board meeting at 5:30 p.m. Wednesday, Nov. 13 at Richland 44 High School, 101 Main St. in Colfax.
Wahpeton Public Schools is scheduled to hold its next school board meeting at 6 p.m. Wednesday, Nov. 13 at Wahpeton High School, 1021 11th St. N. in Wahpeton.