Why did these men climb St. John's Catholic Church?
Men scale St. John's to seal roofs from bats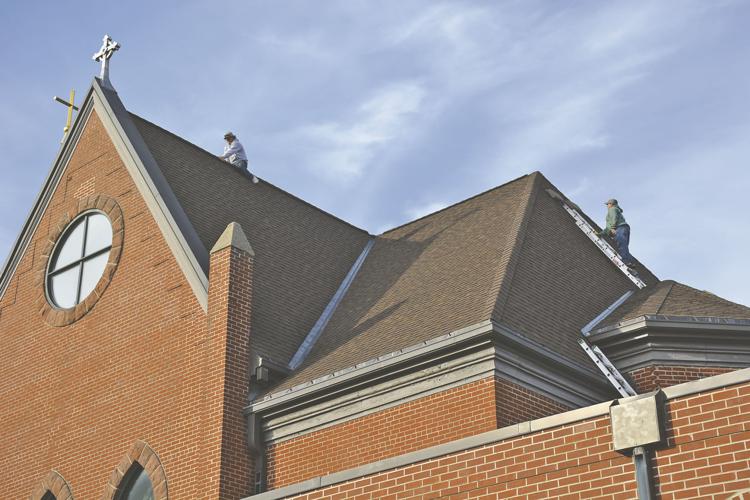 Jesse Scott and Bobby Grant saw Wahpeton and Breckenridge, Minnesota, from a different angle.
The men climbed and sealed the roofs of St. John's Catholic Church, Wahpeton, on Tuesday, Oct. 8 and Wednesday, Oct. 9. Scott is owner of Bat Pros, a pest control service in Elizabeth, Minnesota.
"We seal up particular things and deal with areas where bats are getting in," Scott said.
In most cases, Scott and Grant would only encounter a bat if it had died and hadn't been moved.
"They're nocturnal. We just see the evidence that they were there," Scott said.
Each roof is different. Grant recalled seeing a space in one building where it was obvious that a colony of bats had gathered.
"We're here (in the Twin Towns Area) almost weekly," Scott said. "Things slow down in the wintertime, when bats go into hibernation. But in the summertime, there are a lot of bats in Breckenridge-Wahpeton. We do get a lot of clients in the area."
This recent assignment was the first time he'd worked with St. John's, Scott said. He and Grant have worked on tall structures including barns and other churches, as well as individual homes.
Butch Nelson, custodian for St. John's, said Scott and Grant did a great job. He's just waiting to see how well the sealing holds.
"We'll see in a week or two," Nelson said.
Two bat species are found throughout North Dakota: the big brown bat and the little brown bat.
"The big brown bat resembles the little brown bat but for its larger size," North Dakota Game and Fish stated. "An adult bat can reach (a weight of) 20 grams."
The big brown bat has dark brown fur. Its tragus, located in the ear, lacks hair, the wildlife organization continued. So does its uropatagium, or the area between the thighs including the tail.
"Big brown bats are documented as hibernating in the state. They are found in both urban and rural habitats. Insect availability tends to be the limiting factor versus a type of habitat and they are commonly associated with trees," North Dakota Game and Fish stated.
The little brown bat also has brown fur, with its top being darker than its underside. It is also characterized by darker hair in its shoulder, with hairless wings and uropatagium area.
"Roosts are established in structures in the summer months, but they can also be found in dead trees," North Dakota Game and Fish stated.
Although common in North Dakota, both bat species can fall victim to white-nose syndrome, a fungal disease. The fungus grows in cold, dark and damp places, attacking bare skin and creating behavioral changes.
"Bats become active more than usual and burn up fat they need to survive the winter," according to whitenosesyndrome.org. "Bats with white-nose syndrome may do strange things like fly outside in the daytime in the winter."
Richland County, North Dakota, is among the locations placed in a winter storm watch by the National Weather Service. As of 3:30 pm. Wednesday, Nov. 9, the watch is under effect from 7 p.m. Thursday, Oct. 10-1 p.m. Saturday, Oct. 12.
Look to Daily News for updates on winter weather, affected wildlife and potentially hazardous conditions.