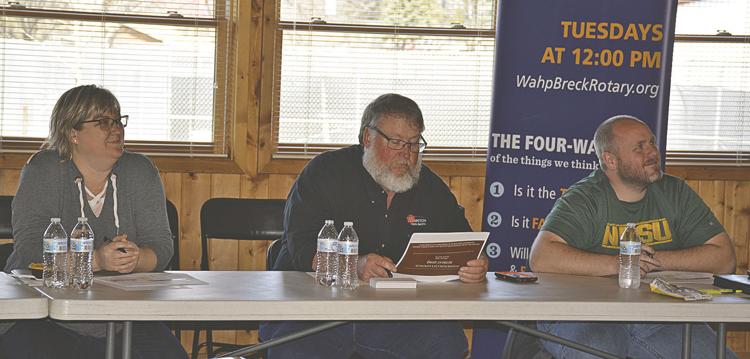 Wahpeton's leaders are examining the public works department's operations.
Mayor Steve Dale introduced a proposal which would reorganize city employees. Several public works positions would be affected by the reorganization, which was discussed but not acted upon during a Monday, April 22 city council retreat.
"I don't want to lose anybody," Mayor Dale said. "There are places that (employees) can shift. It might not be the same pay, but it will match better what they are doing now."
Dale's proposal includes eliminating the city public works director position and creating a city engineer position. The city engineer would handle several of the public works director's current duties. Additionally, a public works operations manager position would be created. Dennis Miranowski is currently Wahpeton's public works director.
Miranowski was not present to hear the proposal, which was given during a roundtable of Dale, council members, City Attorney Steve Lies and Assistant City Attorney Brittany Hatting. Daily News Media was also present.
The public works operations manager position has been proposed more than once, Dale continued. Miranowski is aware of the position, according to Dale, and has shown some interest in exploring it.
"In the last two years, I've come to realize that our public works director has probably slipped into this position, public works operations manager," the mayor said.
Dale also endorsed the idea of creating a public works operations manager assistant position. It would be valuable, he said, to know exactly how much time or money is spent on a project.
"That person would be responsible for some of this data collection that we're missing," Dale continued.
Efficiency has been frequently discussed during Mayor Dale's time in office. At times, he said, the council is too responsive to whomever complains the loudest, particularly if they are part of a group.
Reorganization, Dale added, has been on his mind for a while. It would continue a streamlining trend which has included eliminating Wahpeton's community center board, economic development commission and city enhancement organization.
"The CEO, that's another committee that probably has value in coming back some day with new faces and new blood. But what it was (at elimination) was a train wreck," Dale said.
With Wahpeton's budget-preparation season approaching, Dale requested a unified front.
"I feel it's important moving forward that the 'united we stand, divided we fall' mentality that I feel I run into in other departments in the city is among us with (the proposal)," he continued.
While Dale discussed a chart reorganizing employees, it was not presented to council members. Councilman Don Bajumpaa, 4th Ward, said he was writing down the information but requested to see the actual chart.
"These things are important and valuable in knowing what your vision is," Bajumpaa continued. "One of the positives in your laying this out and sharing with the group is that at least we know where you're coming from."
Bajumpaa did question the idea of unanimous support.
"We don't always have to be united, but we do have to respect whatever decisions that we make as we move forward with the best interests of the public. We've opened the door, had discussion and this deserves additional time," he added.
Dale acknowledged that implementing the proposal during the 2019 budget season might be premature. At the same time, he said he was recognizing deficiencies and seeing waste all the time.
The current salaries of Miranowski and Engineering Project Manager Kyle Rogahn were one example. Both men, according to Dale, make about $53,000 more than previous employees did.
"I look back and, as far as I'm concerned, we're paying more and getting less at this time in those positions," the mayor said.
The proposal is expected to be discussed in future city meetings.
Councilman-at-large Kelly McNary was absent from the retreat.
The next city council meeting will be held at 5 p.m. Monday, May 6 at City Hall, 1900 Fourth St. N. in Wahpeton.