The Red Door Art Gallery hosted their Western & Southwestern Exhibit artists' reception Thursday, Feb. 18, at the tail-end of a frigid few weeks. Gallery-goers can live vicariously through the desert scenes and warm tones of the exhibit.
For this exhibit, they received a wide array of notable art, Gallery Director Allison Karlgaard said. Several of the works on display are from widely renowned artists like Walter Piehl, a North Dakota-born artist recognized for his contemporary Western style.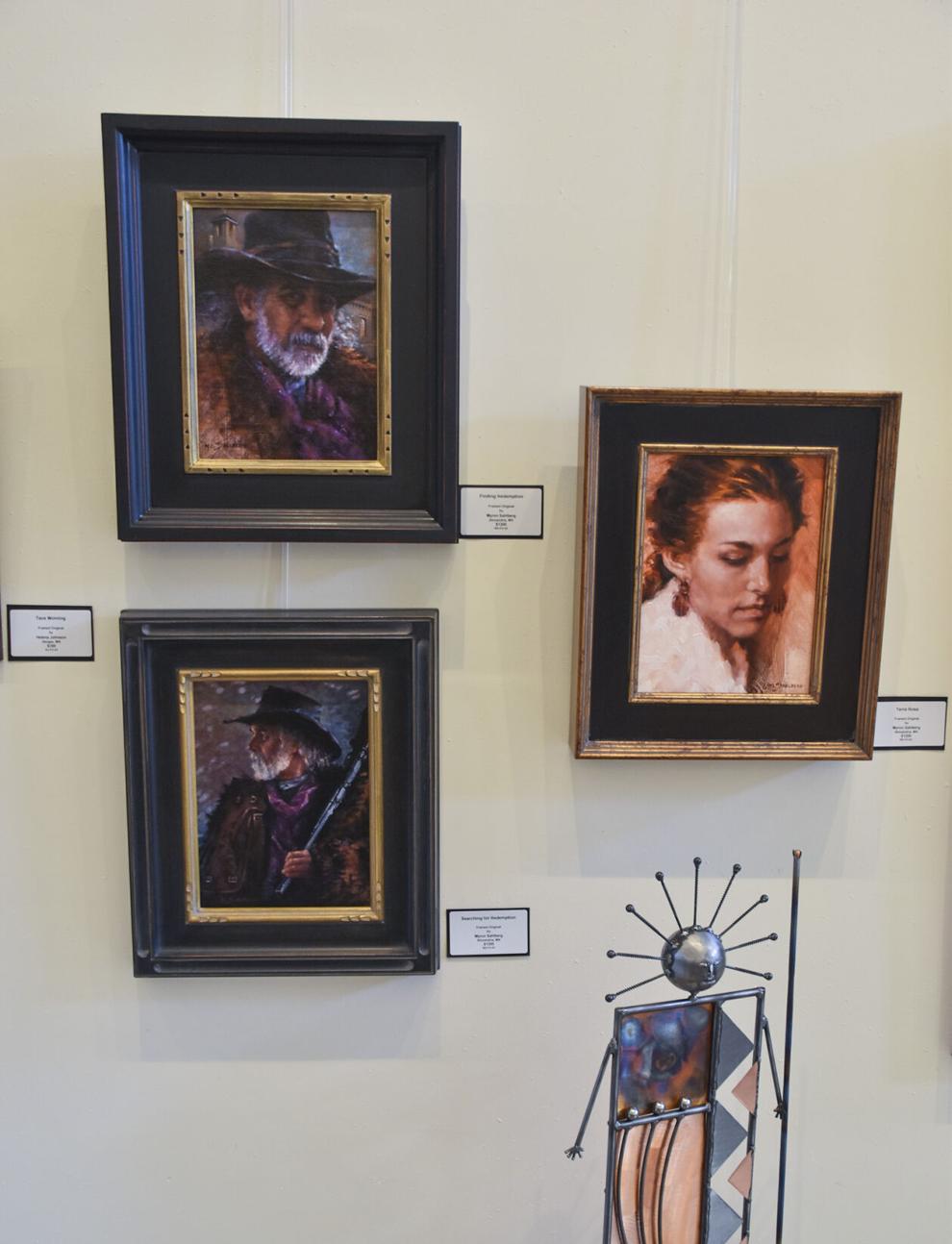 Three portraits by Myron Sahlberg — a professional artist of 44 years — are also on display. Sahlberg's work has largely been exhibited in Tucson, Arizona, but he has also been displayed in St. Paul and other Minnesota cities.
Artist Ruth Hanson of Vining, Minnesota, has a few watercolor and gouache pieces and pencil drawings on display. Hanson, who grew up on a small dairy farm, was heavily influenced by nature and rural life. She has also participated in the Rural Artwork and Winter exhibits at the Red Door Art Gallery, she said.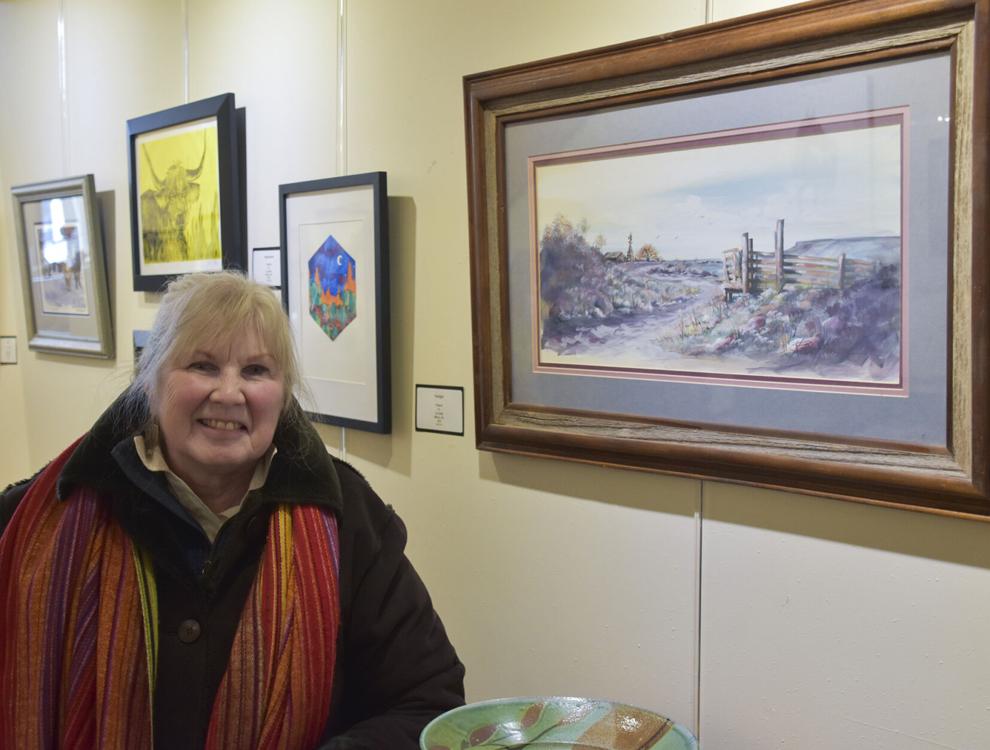 "Art has always been a part of my life. My mother would bring home leftover rolls of newsprint for my brother and me to draw on. We would lay on our stomachs on the floor for hours illustrating murals," she stated in her biography.
Hanson has had a lengthy history of producing and teaching fine art. She student-taught at the American International School in Vienna, Austria, before returning to the states and teaching art at Wahpeton High School for four years.
Hanson's signature medium is watercolor batik, a process in which the artist layers melted wax and watercolor on rice paper. Hanson will demonstrate the unique medium during a watercolor batik art class June 5, Karlgaard said.
Hanson also specializes in watercolor and gouache, a combined medium using the more opaque gouache and fluid watercolor together. The process, which she studied in Texas, involves lots of building up layers and moving around pieces, Hanson said.
"You work on illustration board or watercolor board, and you coat it with a creamy, white gouache first, and then wherever you put the watercolor, you can actually add water and move it again," she said. "It's a neat process."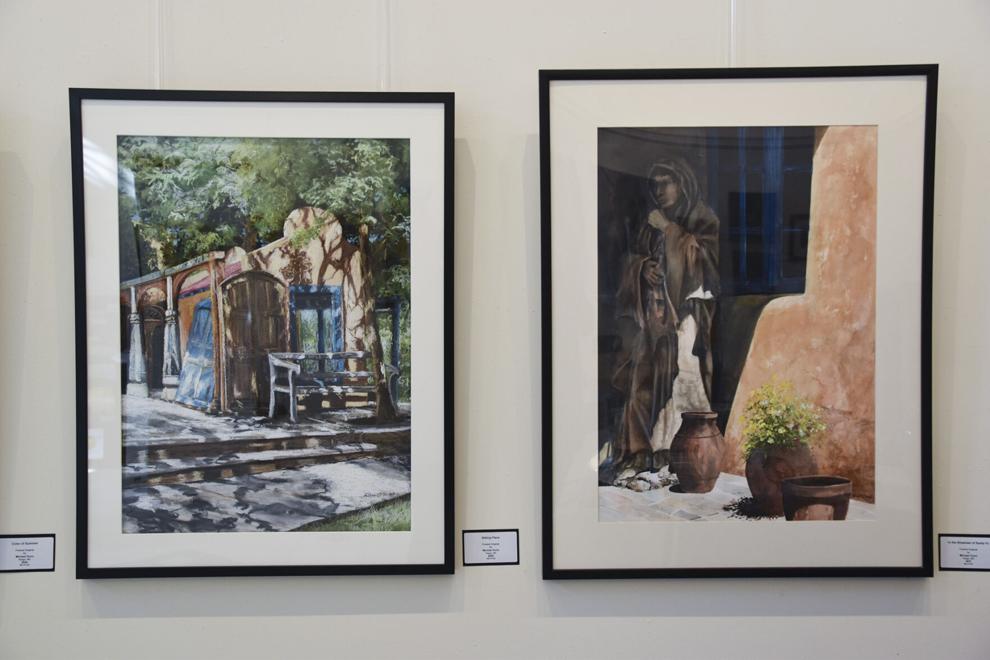 Michael Dunn, a Fargo-based artist who judged the student art show in January, has multiple paintings on the walls of the gallery. Dunn has spent time in New Mexico, where he cultivated his love of non-traditional art. His pieces are inspired by his time in the southwestern state and depict adobe houses in partial shade, with vibrant blues and turquoise accents.
Artist Mary Williams has three Native American women sculptures scattered around the gallery. She uses paperclay to craft the detailed and earthy pieces. Williams is the woman behind a life-size limestone sculpture of an Ojibwa woman overlooking West Battle Lake in Otter Tail County, Minnesota.
Karen Bakke, a Fargo-based artist known for her detailed equine paintings, has three horses on display at the gallery. Bakke has been a full time artist since 1976, and her expertise expands to religious mural and portrait paintings.
The Western & Southwestern Exhibit will be on display through March 27, then the gallery will pivot to a Garden Art Exhibit in April. Upcoming events include an Alcohol Inks class with artist Mary Jo Wentz in March, an Earth Day-inspired Recycled Materials class with artist Liz Dub in April, a Polymer Clay Yoda class to celebrate May the Fourth Be With You day in May and Hanson's watercolor batik class in June.
The Red Door Art Gallery is open Tuesday through Saturday, from 10 a.m.-5 p.m. on Tuesdays, Wednesdays and Fridays, 10 a.m.-7 p.m. on Thursdays and 10 a.m.-4 p.m. on Saturdays.