Editor's note: This story was updated at 2:10 p.m. Thursday, Dec. 9 to reflect the difference between a case and a case unit. 
The Breckenridge, Minnesota, City Council moved to hire council member Jason Butts as the new city attorney and accepted his resignation from the council at a Monday, Dec. 6 meeting.
Butts, who has been a city council member for the past seven years, is currently a partner of Smith & Strege Ltd. in Wahpeton, but is licensed to practice in Minnesota as of 2010. The city will advertise for Butts' seat on the council, and council members will vote for a candidate at their next meeting, Monday, Dec. 20. Individuals interested in applying for the seat can submit a letter of interest to Liane Mauch at lmauch@breckenridgemn.net by 5 p.m. Thursday, Dec. 16. The new council member would complete Butts' term, which is up for reelection next year.
Butts said the move is bittersweet. Leaving Smith & Strege Ltd. was not an easy decision, and he said the firm's partners and staff have become some of his closest friends. Still, he is excited to take on his new position, which he begins Monday, Dec. 20.
"I'm very eager to get to work," Butts said. "There's going to be a lot to learn at first, but I think I can do a very good job."
The city has had a contract with Wilkin County for legal services since 2017, but the county board moved to terminate the contract during an October meeting.
Breckenridge posted an opening for a city attorney, and Butts said he felt like it was time for a change. Butts has been in private practice for 18 years and has focused on real estate, creditor/debtor matters, contract disputes, criminal defense and general litigation.
"I've done a lot of criminal defense work in the last 18 years, so I think that qualifies me to be a prosecutor. It's a little different rules, but it's the same law and the same issues you have if you're defending or if you're prosecuting. I think it'll help a lot," Butts said of his experience.
The county must still charge felony and gross misdemeanor cases from the city, but misdemeanor, petty misdemeanor and traffic-related gross misdemeanor cases will be handled by the city attorney, Daily News previously reported.
Wilkin County recently hired its own attorney after former county attorney Matthew Jorud resigned in November. Joseph Glasrud of Big Stone County, Minnesota, will assume the role beginning Dec. 20.
Jorud had previously approached the county board regarding the high number of cases in October, presenting the commissioners with case data. At the time, there were 202 open case files in Wilkin County, 135 of which were from the Breckenridge Police Department.
Breckenridge Police Chief Kris Karlgaard presented Jorud's data at the Monday council meeting. The city attorney would be responsible for approximately 70 of the existing 135 cases, Karlgaard said.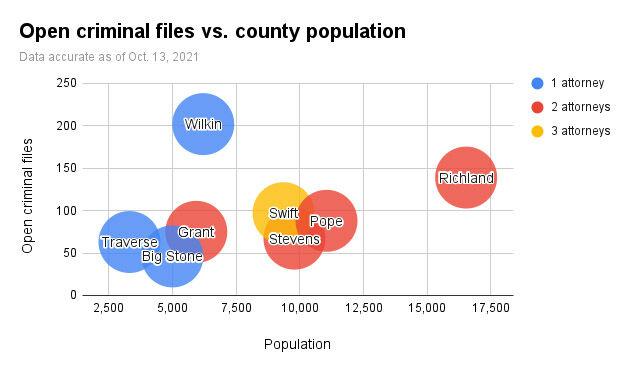 Compared to the surrounding counties, Wilkin County has a high caseload and more open criminal files than Richland County, which has more than twice the population. There are several nearby counties with a much lower caseload that have multiple attorneys, Karlgaard said.
As the sole prosecutor, the Wilkin County attorney was expected to manage an average of 600-800 cases units per year, according to former county attorney Carl Thunem. A case unit assigns a "value" to each type of case. For instance, a misdemeanor-level case is valued at 1 case unit, a gross misdemeanor-level case is valued at 1.33-1.6 case units, and a felony-level case is valued at 3.33-4 case units. 
An appropriate workload for a prosecutor would be around 500 case units per year, according to Thunem. The current Wilkin County caseload was not a sustainable amount of work, prompting the Wilkin County commissioners to terminate the contract with the city.
The Breckenridge Police Department had received 5,500 initial complaint reports (ICRs) as of Dec. 6, Karlgaard said. Wilkin County Sheriff Rick Fiedler provided Karlgaard with data in September, reflecting that the police department had over 1,000 more initial complaint reports (ICRs) than the sheriff's office at the time the data was collected.
"This should help you understand the police department is extremely busy and it's not slowing down," Karlgaard said. "We need a city attorney and I strongly support Jason Butts to fill that role."
The number of yearly case units in Wilkin County rose from 523 in 2016 to 856 in 2020, according to data collected by Thunem. He believed the increase in caseload was partly due to drug use in the county, particularly marijuana and meth use, Daily News previously reported.
A city attorney would likely average 100-140 case units per year, according to Thunem. Butts said the load would be manageable, and he would work closely with the county attorney in his new role. The prosecutor also has discretion as to what is charged and how it's charged, he said.
"If I think we can get a conviction on it, I will bring it," Butts said. "I'll do what's best for the city."
At Monday's meeting, Butts' fellow city council members congratulated him on his new position and thanked him for stepping up to the plate.