The 23rd annual Headwaters Day did not disappoint as hundreds of people flocked to Breckenridge, Minnesota, to enjoy a parade and the array of events that followed on a beautiful, sunny Saturday, Sept. 11.
Organized by the Breckenridge Active Living Committee and Wahpeton Breckenridge Chamber of Commerce, Headwaters Day included a pancake breakfast put on by Just for Kix in Welles Park, Breckenridge, Minnesota, a parade through the town, a rummage sale put on by the Breckenridge Senior Center, a book sale put on by Breckenridge Public Library, fire truck rides, pony rides provided by Rachel Johnson, a bouncy house put on by OSPTI, a rock wall provided by the Breckenridge Police Department, a Clays of Glory shootout, music by Double A DJ and a line of vendors and informational booths.
Wahpeton Breckenridge Chamber of Commerce Executive Director Lisa Kunkel said this was her first "traditional" Headwaters Day. Two years ago, the event was rained out and last year, it was canceled due to the COVID-19 pandemic. Kunkel said the day was also special given it was the 20th anniversary of Sept. 11, 2001.
"Everybody was there, it was such a great coming together of the community, and especially on 9-11 — the 20th anniversary of 9-11 — it felt so American. It was just a great feeling, and it was such a beautiful day. I thought it was a great tribute," Kunkel said.
The parade had residents and visitors lining the streets of Breckenridge, eagerly awaiting candy tossed by parade floats. Nearly every aspect of the community was represented in the parade, something that makes Headwaters Day unique, Kunkel said.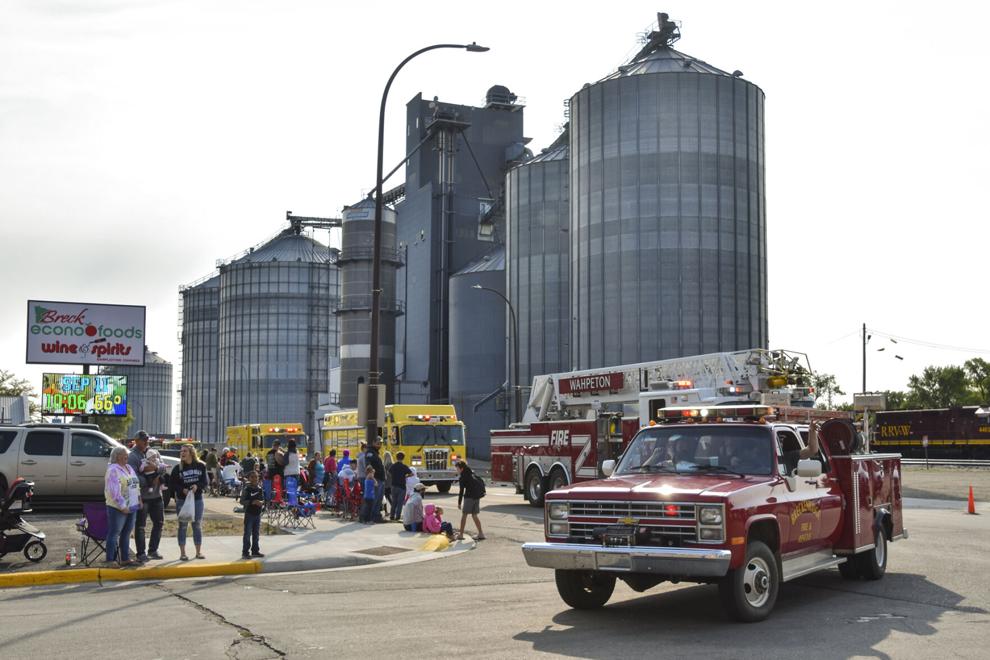 Entities like local fire departments, Ambulance Service Inc, public utilities, law enforcement, postal workers, city officials and even Minnesota Sen. Torrey Westrom (R-12) all had vehicles in the parade.
A handful of local nonprofits, such as Richland Wilkin Kinship, also made an appearance. Community groups like the Wilkin County Princess Pageant, the Sons of Norway, the Boy Scouts and Just for Kix decorated cars and trailers for the event.
The entourage was livened up by the Breckenridge High School band and cheerleaders, and floats like the Head of the Red Gun & Archery Club blasted tunes for the crowd to enjoy. Breckenridge's second school, St. Mary's School, also had a float. Kunkel said watching the schools be involved makes the Headwater Day parade unique, since most local parades are held during the summer when school is out of session.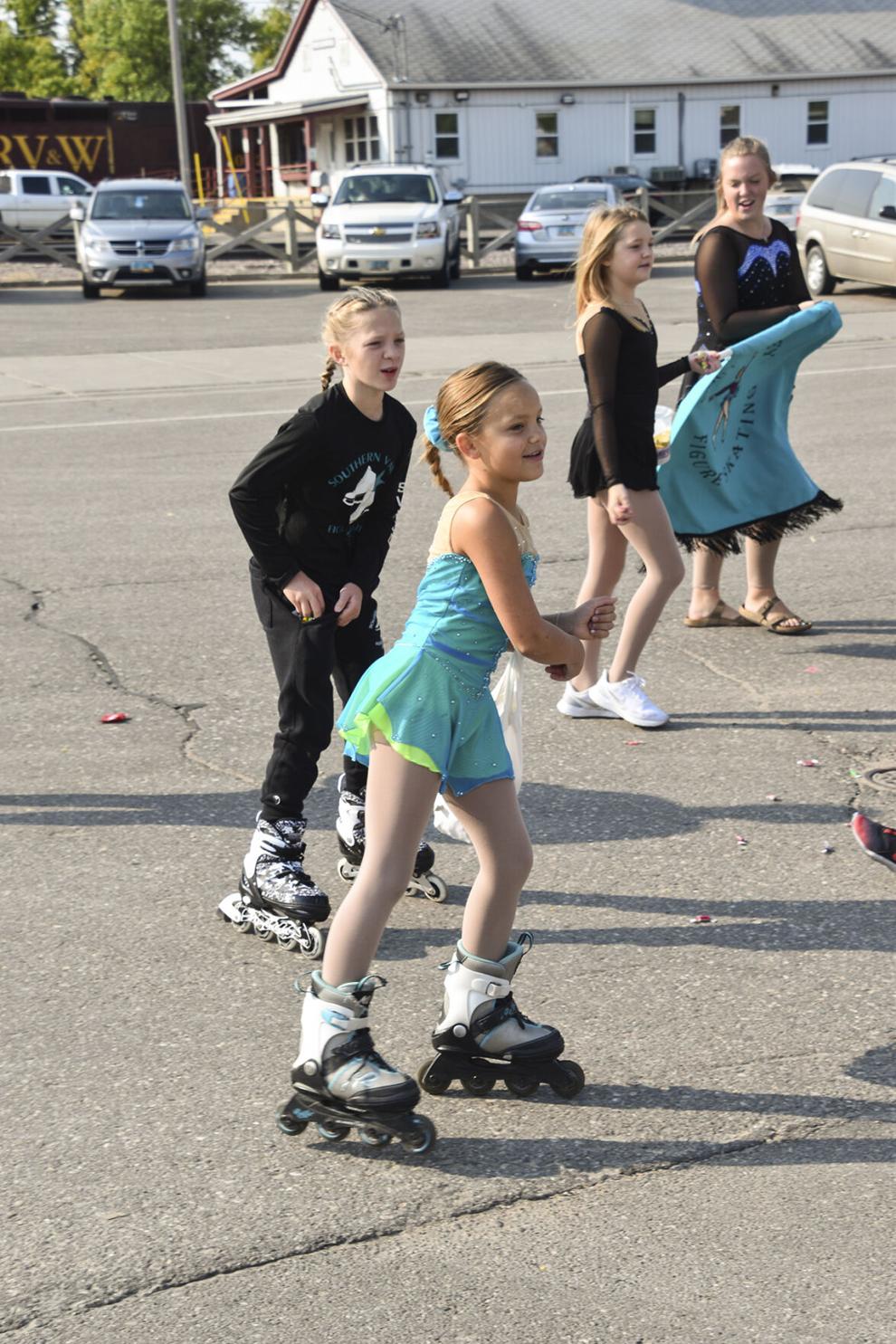 Some participants walked the parade, like members of Breckenridge Lutheran Church, Cargill and Pinewood Kennels (and their costume-clad dogs). Some rolled the parade — members of the Southern Valley Figure Skating Club roller skated the route and city of Breckenridge Billing Clerk and Active Living Committee member Lori Gefre navigated a three-wheeled bicycle through the crowd.
"I was blown away by the number of businesses that participated, youth groups that participated — I felt like it was a great event," Kunkel said. "I was most impressed by how everyone knew what to do. People just showed up and got in line, and knew exactly how to handle it and went with it."
Following the parade, many attendees made their way to Welles Park to partake in the pancake breakfast and see the various booths. Vendors included the Red Door Art Gallery; Birchwood Therapeutic Services; Color Street Nail Strips; Star Enterprise, LLC; Daily News and News Monitor; Schwan's; Mobile Mental Health Crisis Response; Send Community Theater; Elaine Amundson; Pioneer Memory Cottages; Healing Arts Chiropractic; Wilkin County Public Health; and Lori Hieserich.
Everything from jewelry, art, books and antiques to homemade baked and canned goods, popcorn and quilts were available for people to peruse. Next year, Kunkel said she would love to see more activities and food vendors at Welles Park following the parade.
"It was a great community event, with lots for the kids to do especially," Kunkel said. "It wouldn't have been possible without the help of so many people: the Breckenridge Fire Department, the Breckenridge Police Department, Active Living Committee, Rachel Johnson from Foxhome brought her pony pals — all those people volunteered their time and resources and came down and showed the citizens a great time."