Wilkin County, Minnesota, held a Housing Summit in Rothsay, Minnesota, on Tuesday, April 6 to discuss the coming arrival of the first chunk of the $75 million settlement between the Richland-Wilkin Joint Powers Authority (JPA) and the Fargo-Moorhead Diversion Authority.
The settlement was signed in October last year, after nearly 10 years of legal battle. In the next 10-15 days, Wilkin County will receive $14 million and Richland County will receive $21 million from the total settlement.
The money is intended as compensation for any damages following the construction of a dam in Cass County, North Dakota. The dam could potentially cause flooding in the northern parts of both Richland and Wilkin Counties.
The remainder of the settlement will be paid upon completion of the dam, or within eight years, whichever date comes first, said Richland County Commissioner Nathan Berseth.
"I'd like to think we took a really rotten apple and tried to find the silver lining with this settlement agreement with the diversion authority," Berseth said.
Tuesday's meeting followed the Richland County Housing Summit, which took place Thursday, March 18 in Hankinson, North Dakota. Berseth delivered the presentations at both events with data specific to each county.
Similar to Richland County, Wilkin County has suffered a 15.85 percent decline in population since 1995. Losing residents means losing students, Berseth said. School enrollment in the county has declined 28 percent since 1998. The loss in students means Wilkin County has lost out on around $2.7 million.
Richland and Wilkin counties risk losing more with the Fargo-Moorhead diversion project, which is why the settlement money is intended to be used to boost the counties' tax bases.
Wilkin County plans to spend around $5 million of the $14 million on housing. How the county will spend the remainder of the money has yet to be determined, said Dennis Larson, Wilkin County commissioner.
"We're moving forward with something, but we still have more to deal with as far as I can see," Larson said. "To me, we only have one chance to get this right and we don't want to goof it up the first time around and throw the money away that has really dropped in our lap."
Larson said the county would like to form a group of community members and leaders to brainstorm the county's needs and create a structure for spending the rest of the $14 million. One idea he posed is crafting a revolving fund, consisting of loans or grants for businesses. If the money was treated like a loan, the county would eventually get it back with interest.
Larson supports the push for housing, something he has seen a need for for years. Entities like the Breckenridge Port Authority have tried to address housing issues, but this time is different, Larson said. The money is guaranteed and they have a guaranteed buyer in the Southern Valley Economic Development Authority (SVEDA).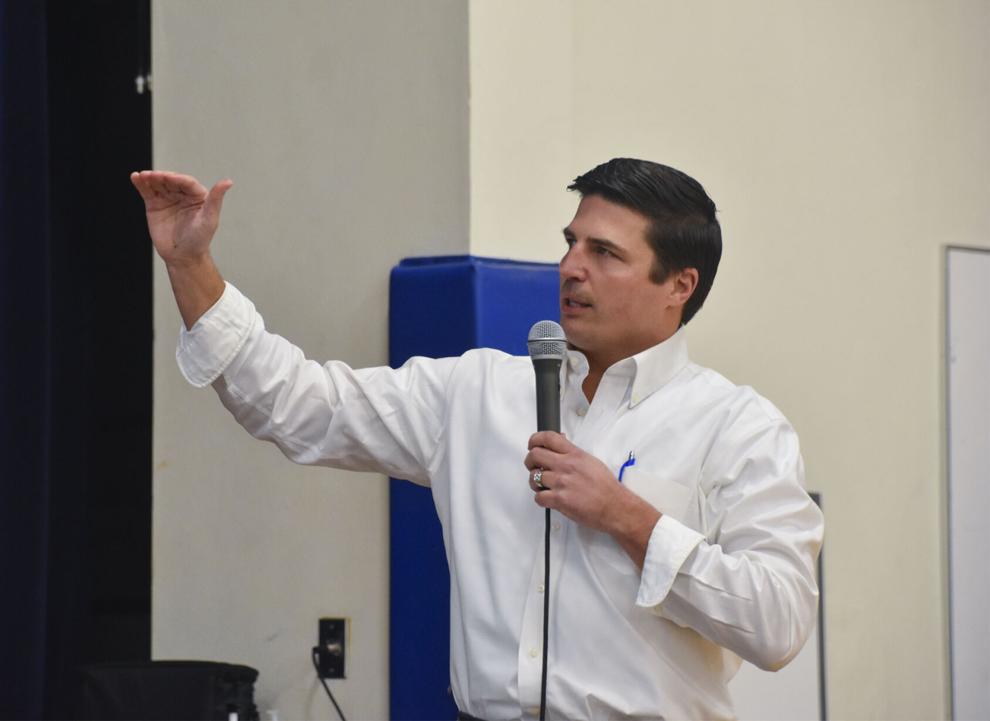 The counties are poised for growth. SVEDA would play a large role in the housing push, buying lots and acting as the general contractor, and existing lots already have access to water and sewer services.
"Our two counties have done a pretty good job focusing on jobs, and jobs are still very important, but houses bring people, people bring jobs and jobs follow with businesses," Berseth said.
If 20 homes were built in Wilkin County per year, it would take 25 years to get back to the population in 1995. The purpose of building housing is to gain more residents and ask less of them, Berseth said.
If the county built 50 houses in three years, they could potentially gain around $260,000 in real estate taxes, $2.88 million in new household income and $1.12 million in new household income spent around the county.
"We don't want to increase the tax burden, we want to increase the tax base," Berseth said.
They plan to rehabilitate dilapidated homes in the counties, which could fit first-time buyers' budgets. In some communities in each county, rehabilitation will be a higher priority than building new homes, Berseth said.
While Berseth is confident people will follow housing, their decisions will be market-driven. If a home they built hasn't been sold in six months, they will need to reevaluate their strategy.
But, the demand for housing is showing, Berseth said. Smaller communities that have less amenities than Wahpeton and Breckenridge like Barnesville, Minnesota, or Kindred, North Dakota, have successfully pushed for housing.
Still, housing and amenities must strike a balance. Berseth said the desirability of a community is important, but the community needs enough people to financially support those amenities.
"I think to go amenities first and add homes later would put an undue tax burden on the existing residents, but I think a parallel track is certainly opportunistic," Berseth said.
He said suggestions for amenities should come from the community, and they can help with the housing aspect too. Wilkin County residents can identify areas of growth, available lots and homes that could be rehabilitated. They can contact SVEDA at (701) 640-8243 or the Wilkin County commissioners, whose numbers are found at https://www.co.wilkin.mn.us/countyboard.