Wilkin County Attorney Carl Thunem announced his resignation in May, 2021, after he accepted a position as an assistant United States attorney in Pierre, South Dakota. Thunem has worked for the county for just over five years, and his last day will be Aug. 22.
At their Tuesday, July 12 meeting, the Wilkin County Board unanimously approved a motion to hire Matthew Jorud, former Becker County assistant attorney, for the position of Wilkin County attorney. Jorud will begin training with Thunem Tuesday, July 27.
"I've had the opportunity to work with Matt Jorud a couple times before on criminal and child protection matters, and I've really enjoyed my interactions with him," Thunem said. "I think Wilkin County is privileged to have such a good hire. I have no doubt he'll do an excellent job, and I'm looking forward to working with him in our transition."
Thunem will spend a little over three weeks training Jorud and ensuring there is a smooth transition.
Thunem simply described his five years at the county as "fast." He has loved his job as Wilkin County Attorney, and the decision to move on was difficult. In his new position, he'll primarily be prosecuting felony-level Indian Country Crimes, which are defined as serious crimes that occur within a tribal community.
"The opportunity to practice in front of federal judges and to have colleagues of the caliber I'm going to have in the South Dakota U.S. Attorney's Office is a tremendous opportunity. It's one I would've been lost to pass up," Thunem said.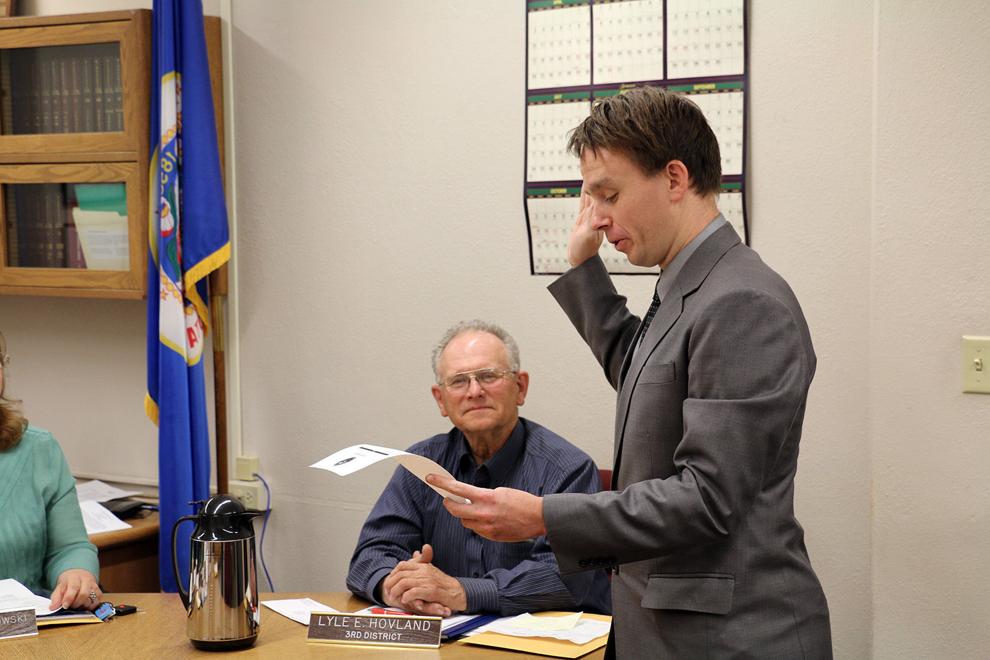 Thunem thanked the different entities he has gotten the chance to work with during his time as county attorney.
"I have had excellent support from law enforcement, from family services, from the county board, and Breckenridge has been a great place to start a family," he said.
Some of Thunem's best memories in the county have come from entertaining jury trials, he said. In one case, Judge Amy Doll was asked to confirm whether or not the involved drug paraphernalia — a grinder — had actually been used for marijuana. To ensure the fact it had been used for such a purpose, she sniffed the grinder, and Thunem said he will never forget the look on her face.
"The look of utter repugnance on her face, like she just smelled the worst scent on God's green Earth, I was afraid she was going to vomit," Thunem laughed. "Absolutely green to the gills, she said, 'I think the court finds without a reasonable doubt that this has been used as drug paraphernalia.'"
One of Thunem's biggest points of pride is the success of the treatment court. One of the first actions Thunem took after he was hired in 2016 was to have the county join the treatment court. With the support of Wilkin County Family Services, the county board, Breckenridge Police Department and the Wilkin County Sheriff's Office, the program has found success.
Since it began, 46 people have graduated and of those graduates, 60 percent have no known relapses. The program does not just rehabilitate people struggling with addiction, it has helped participants attain a driver's license and high school diploma, and secure employment before and after graduation, Daily News previously reported.
"We've had several people who are productive, hardworking citizens now, who, had we not had treatment court, would certainly be wiling away their time in prison," Thunem said. "We've also had some families who would have had their children permanently taken away from them but for treatment court."
He is also proud of the policies he has implemented in his office that he believes have helped everyone involved in the criminal justice system achieve more equitable, fair and uniform outcomes.
"I would just note that we have excellent court-appointed attorneys and public defenders in this area that have been a real pleasure to work with, and we also are very privileged to have two primary judges signed to this county, who I think do excellent work in Judge Doll and (Judge Charles) Glasrud," he said.