Editor's Note: Daily News and News Monitor's four-part Point of View series this month is taking a closer look at local and regional infrastructure needs. Each Tuesday we'll feature a different aspect of what our communities need, including hard infrastructure such as roads and bridges, along with the human framework and support services.
After a seven-year legal battle that cost the city over $11,000, Breckenridge, Minnesota, came to an agreement with the Minnesota Pollution Control Agency (MPCA) about their wastewater permit in April 2021. The previous permit expired in 2014, but upon seeing the limitations of the new proposed permit, the city filed a contested case claiming the phosphorus standard was too stringent to meet.
Every five years, wastewater permits are renewed, said Neil Crocker, city of Breckenridge director of public works. Breckenridge's previous permit included a limitation of 2 milligrams of phosphorus per liter of sample. The new wastewater permit drafted in 2014 cut the figure in half, meaning Breckenridge would need to reach 1 milligram of phosphorus per liter of sample. It was a standard the city would be unable to consistently meet, according to Crocker.
Breckenridge, and four other Minnesota municipalities that are part of the Red River Basin — Moorhead, Thief River Falls, Warroad and Roseau — each faced new permits with the stricter limitation. Each time a permit expires, the MPCA looks at the most updated standards and rules to draft a new permit, said Paul Scheirer, MPCA wastewater division.
"When permits expire, we need to reissue them and these permittees within that area were the ones that needed to be issued," Scheirer said.
While Breckenridge was in the midst of a contested case, the city was able to continue operating under the expired permit's writing. Communication between the city and the MPCA went dark for several years. Both entities met to review the situation in 2018, along with the Red River Basin Commission (RRBC), a 40-year-old nonprofit that seeks to facilitate a cooperative approach to water management within the basin.
"We didn't want limits, we wanted goals," Crocker said. "Because limits are susceptible to fines, they can be penalized."
The new permit adopted in April does not include limitations, rather it is a five-year phosphorus reduction plan headed by the RRBC that the city must contribute to in order to evade phosphorus limitations. The first phase of the plan must be developed by April 2022, Crocker said.
The trouble with phosphorus
Breckenridge, Moorhead, Thief River Falls, Warroad and Roseau make up the Minnesota portion of the Red River Basin, and the Red River flows into Lake Winnipeg, Canada.
In the 1990s, Lake Winnipeg began to experience a significant increase in algal blooms, RRBC Executive Director Ted Preister said.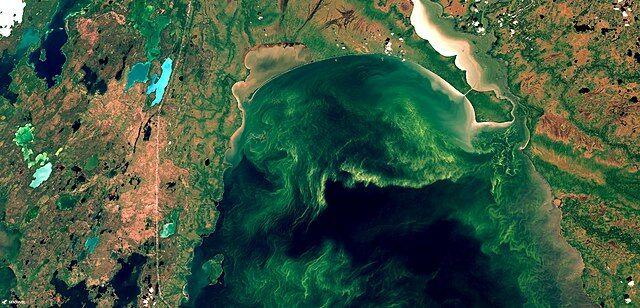 "Lots of times when we think about algal blooms, we think it's just unsightly," Preister said. "But in this case, as big as those algal blooms are, they are potentially hazardous to humans and pets on the beach. It is unsightly. But every bit as important is it's a major impact on the commercial fishery that is Lake Winnipeg, so it's a significant economic driver as well."
Lake Winnipeg's algal blooms are caused by an excess of nutrients, like phosphorus, in the water. Phosphorus adheres to soil particles which make their way into water sources. It's a problem that has been slowly building since after World War II, Preister said. When major fertilizer use became a common practice in agriculture, phosphorus flux increased. As more people moved to the Red River Basin, phosphorus flux increased. As soil health declined through modern infrastructure and large-scale farm operations, phosphorus flux increased.
Not only are there multiple factors that lead to an influx of phosphorus, there are multiple sources across state and nation lines. North Dakota, Minnesota and Canada all play a part in feeding the nutrient into Lake Winnipeg's waters.
In the 2000s, the RRBC established the International Red River Board to assist in reporting on the water quality of the Red River internationally, according to a U.S. Department of State public hearing.
The International Red River Board, now known as the International Red River Watershed Board (IRRWB), determined both countries must reduce phosphorus flux by 1,400 tons per year. Through work between the MPCA and IRRWB, it was determined Minnesota and North Dakota would need to reduce their phosphorus flux nearly evenly, by about 700 tons per year.
"It's a combination of all those factors over decades that has gotten it to this point," Preister said. "Even if we had a magic switch, where we could reduce that 700 tomorrow and it would stop, (Lake Winnipeg) would still have algal blooms for probably 40 years because there's that much (phosphorus) sitting there in the lake that has to process through and get out. It's a really wicked, complex problem."
Regulations begin
With nutrient goals to meet, multiple agencies began working toward limiting phosphorus. Agriculture is a large contributor to the problem, but the MPCA does not have the power to enforce regulations on producers, said ​​Jim Courneya, MPCA Northwest Watershed Unit supervisor. The phosphorus flux from the five Minnesota municipalities that feed into the Red River, or point sources as they're termed by the MPCA, can be regulated.
"There's no question that probably the majority of phosphorus that enters the system comes from non-point sources," Courneya said.
A report by the Thief River Falls watershed district found that over 20 years, high-till and low-till cropland contributed 65.23 percent of the total phosphorus flux, or around 89,451 tons per year. Point sources contributed 0.11 percent, or around 162 tons per year. Crocker said the data is representative of Breckenridge's source makeup, since the two cities have similar geography and industry.
The MPCA operates with one goal in mind, Scheirer said: any decrease in phosphorus is beneficial, and all sources must do their part to reduce flux.
"We need to see reductions from all sources if we're going to meet the goals that have been set at the border," Scheirer said.
According to Crocker, what was required in the original proposed permit was not going to be possible without building a mechanical wastewater treatment plant that could potentially cost the city millions of dollars.
"One milligram per liter for a properly designed and operated and maintained wastewater treatment facility is very achievable," Scheirer said. "In fact, there are much more stringent limits throughout the state based on the type of receiving water the wastewater is going into. But in this situation, specifically for Breckenridge, looking back at 10 years of data, they were able to meet (1 milligram per liter) about 30 percent of the time."
The MPCA offered alternatives to building a wastewater treatment plant, such as offloading chemicals from a boat into the existing retention ponds. The chemicals would coagulate the phosphorus, thus making it possible to remove it. Crocker said that option was not feasible for Breckenridge's 80-acre retention pond because neither the infrastructure nor the funds were there.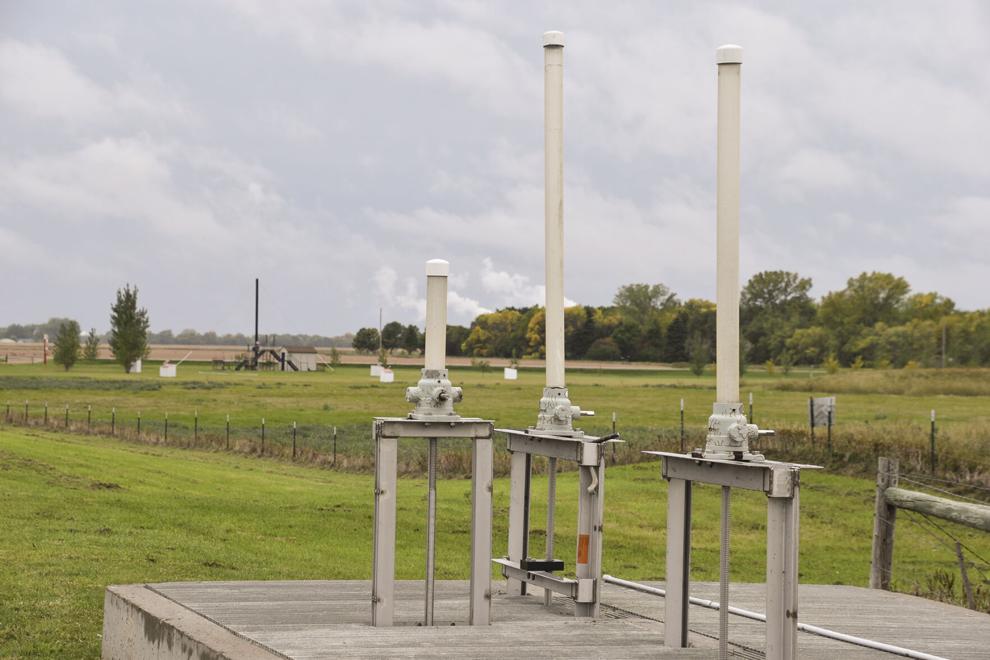 Crocker said the city's levels of phosphorus are volatile. They can depend on the weather during a year. For instance, in a dry summer, like that of 2021, moisture in the retention ponds evaporates, so they are able to keep collecting wastewater.
The city of Breckenridge does not have a major manufacturer that contributes to phosphorus flux. Reducing the amount of the nutrient in wastewater would be a task assigned to the 3,200 residents. But Crocker isn't convinced buying phosphate-free shampoos, detergent and other supplies — a campaign already in place by the city — would be enough to reduce phosphorus to 1 milligram per liter of sample.
"If it tests good, I got lucky. If it tests bad, what did I do wrong? I just keep collecting wastewater. That's all I can do. I don't have a mechanical plant where you can add chemical treatment and do all this stuff. The only treatment we have is retention," Crocker said.
The permits of the other four municipalities had also expired, and they were taking the same stance, Crocker said. If the cities had accepted the terms of the original proposed permits, Crocker said he would worry about the financial penalties and other ramifications of exceeding the limit.
Even if the 1 milligram per liter limit was imposed, Preister and Crocker said they are unsure the point source reduction would make a perceptible difference at the border.
"If the limit that was proposed for those five cities was put into place, and the cities were forced to comply with those — and what that really means is build new plants for treatment because none of the facilities that exist have the real capacity to significantly reduce phosphorus as they sit today — if that went through and they met those standards, it would be one half of one percent of that 700 tons reduced from the waterway," Preister said.
It isn't "Us vs. Them"
While point sources contribute far less to the phosphorus flux than agriculture and naturally occurring incidents, pitting municipalities against producers is a pointless past time, Preister said.
"At the end of the day, we all have to do a little part, and ultimately, the only thing MPCA has that they can regulate is those treatment facilities. They can't force farmers to do anything, there's no legal authority," Preister said.
Preister believes every entity is trying to do the right thing.
The city wants to be environmentally friendly, but they also want a fair and achievable permit without a punitive threat or needing to spend millions of dollars, Crocker said.
The MPCA wants to ensure the types of pollutants that are commonly found in wastewater are reduced, so that human, environmental and aquatic health is protected, Scheirer said. They must work with the cities, not just the RRBC, because they are the state's regulatory arm when it comes to issuing permits, and permits must be issued to every municipality.
"I'm all about working together, and I think we have to remain optimistic that we will get there," Scheirer said of the reduction goals.
The agricultural community is interested in helping to reduce phosphorus because losing phosphorus from their fields means they're losing fertilizer, and therefore, money, Preister said. Soil health initiatives would ultimately decrease the amount of soil that is blown off of fields by renewing and strengthening soil structure.
Soil and Water Conservation Districts (SWCD) across the state have been helping farmers implement soil health initiatives, Courneya said, which in turn, lead to a reduction in phosphorus and many times, a healthier crop. SWCDs are also addressing impaired waterways and erosion, such as the Whiskey Creek project in Wilkin County, Minnesota.
"We want to be good stewards of our environment. We discharge into the Red River, the Red River flows north, and you have Fargo pulling water out of the Red River to make drinking water, so we want to be good neighbors," Crocker said.
Looking to the future
Preister said the RRBC has the unique advantage of being able to connect to all entities involved. They have access to the agricultural community, the cities, Canada and regulatory agencies like the MPCA.
The five municipalities contributed a total of $8,000 to the RRBC that went into building an engineering estimate for the reduction plan. The cost of the plan is close to $500,000, Preister said. The RRBC has submitted a grant application, but until they get a major federal sponsor, they cannot move forward. The RRBC does not plan to have the five cities pay for the plan.
"I do not think the cities should be paying for this because it is not their problem. They're a very small piece of the puzzle," Preister said.
Preister believes the goals in place are attainable, but not for a while. Because of the RRBC's reach, they are the best entity to tackle developing a plan.
"This is leverage to really build a five-year effort to get producers and cities together and stop pointing fingers at each other and say, 'How can we collaborate? How can we address this, that we all acknowledge is a problem?'" Preister said.