Dakota Avenue, downtown Wahpeton, was a playground for rocking rides and the people who can't get enough of them Thursday, Sept. 16.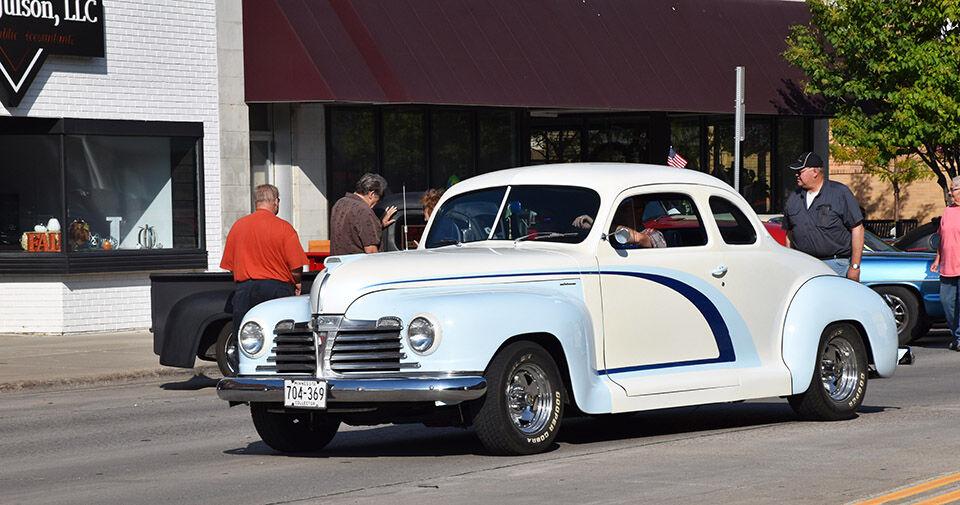 The Classy & Classic Car Show, sponsored by Smith Motors, took place from 4-7 p.m. Kicking off the 2021 Fall Festival, it welcomed cars, trucks, motorcycles and plenty of visitors.
"I'm very pleased with how the car show went, both with the number of entrants and the steady stream of people we had all evening," Wahpeton Community Development Director Chris DeVries said. "Sometimes, with events like this, you get a quieter period, but things were pretty steady the whole time."
DeVries and guests including radio host Bill Dablow, KBMW, enjoyed the sights of the eye-catching vehicles and the visitors who checked them out.
The Wildcat Winner award went to Dale Bladow, who drove a Datsun 240Z. Frank Keller won Participants' Choice with a Plymouth Cuda. Tom and Vivian Bernotas received the Best in Show prize for their Plymouth Road Runner.
Kyle Phillips, Fergus Falls, Minnesota, made sure his Nissan 370Z was primed and ready for viewing. Like many enthusiasts and drivers, Phillips tries to make the local car shows. When he was stationed in Japan, he was able to drive all sorts of vehicles.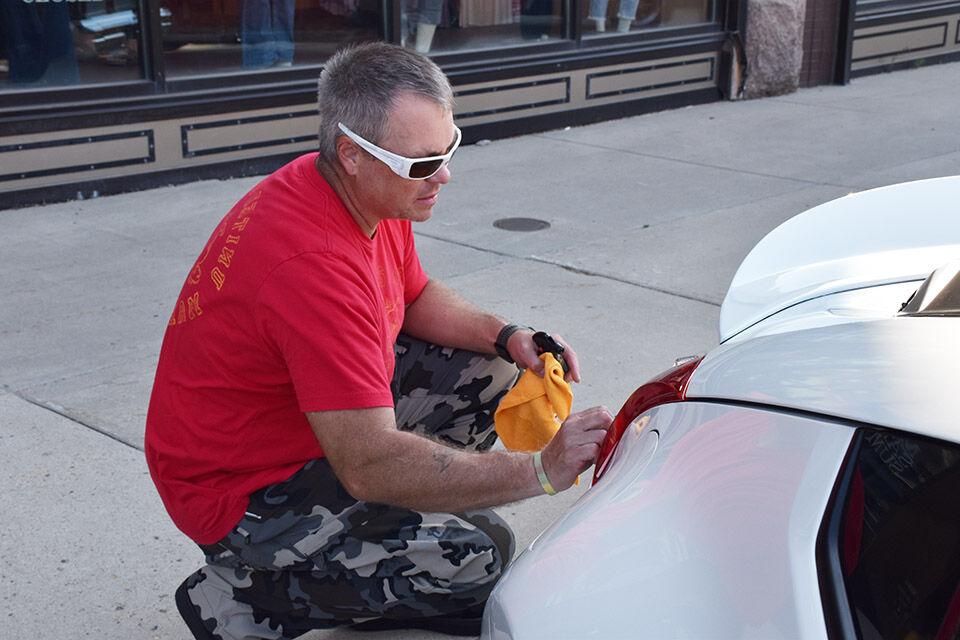 "I've had this car for just about two years. I love driving it. It's a fun car," Phillips said.
Show staff like Brandon Erdahl, Smith Motors, directed cars to their spaces. Some participants drove vehicles with sentimental value.
"My dad actually restored it when I was in high school," Paul Hildebrant, Alexandria, Minnesota, said about the white 1942 Plymouth De Luxe he rode in with wife Jennifer.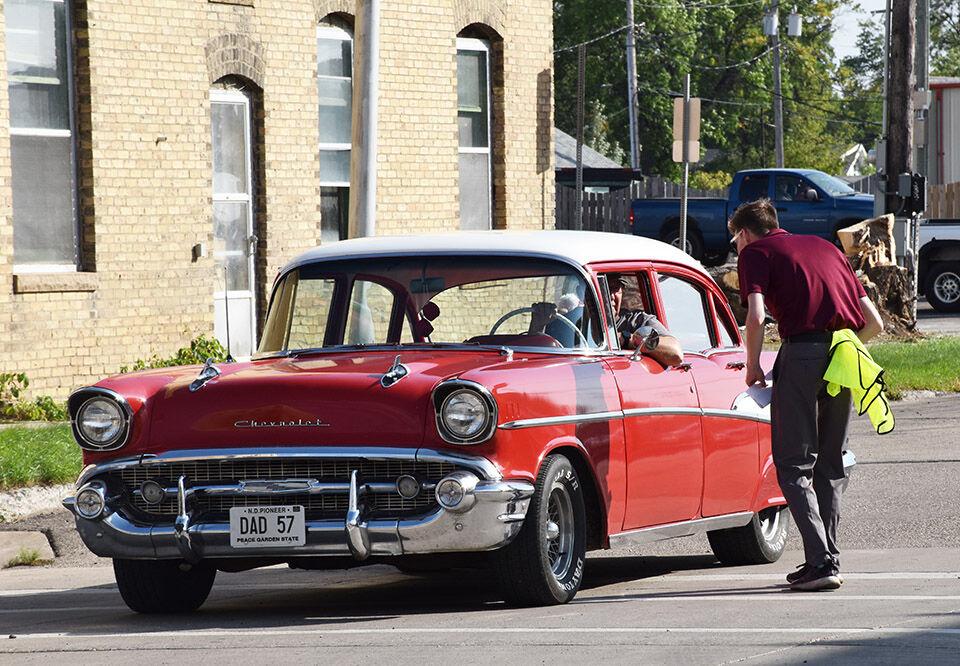 Following the car show, approximately 25 people total attended an 8 p.m. showing of "The Princess Bride" in Airport Park. The movie was well-received, but higher than expected winds were not applauded.
"That played a little havoc with the screen," DeVries said. "Still, people stayed. I had folks thanking me and saying that they liked the movie. It was really cool, sitting outside and watching a movie. We'll have to try that again."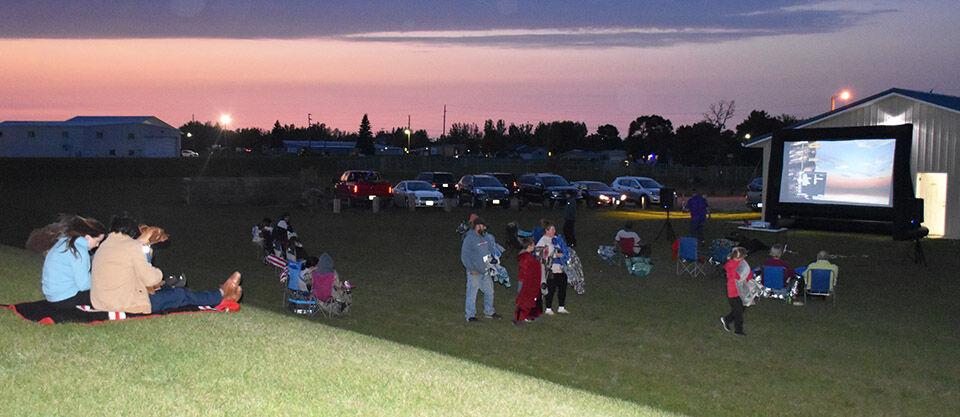 Fall Festival events will continue through Sunday, Sept. 19. As of press time, here is what to expect:
A city-wide garage sale will be held Saturday, Sept. 18. The day will also include a bean bag tournament hosted by The Boiler Room, downtown Wahpeton.
Wahpeton Public Schools will induct four members into its hall of fame. The luncheon ceremony, honoring Cindy Borchert, the late Dennis Eastman, the late David Myhra, Ph.D, and Dorothy "Dot" Formaneck Henke, takes place at 11 a.m. Saturday at Wahpeton High School.
The Wahpeton-Breckenridge Out of the Darkness Walk, held to fight suicide, raise funds and increase awareness, will be held Saturday in Chahinkapa Park, Wahpeton. Registration begins at 1 p.m., followed by the 2 p.m. opening ceremony. Registration can also happen online at asp.org/Wahpeton. The walk is associated with the American Foundation for Suicide Prevention.
"Pie vs. Pie," including a pie-eating contest and ice cream social, will take place from 1-3 p.m. Saturday at Heritage Square Plaza, 500 Dakota Ave. in Wahpeton. The event is a fundraiser for Bethel Lutheran Church's youth group.
North Dakota State College of Science's Wildcats take Frank Vertin Field, Alumni Stadium, for a 1:30 p.m. football match Saturday.
Scarecrow judging begins at 2 p.m. at Heritage Square Plaza.
Bull Bash 2021, a rodeo fundraiser for the Wahpeton Fire Department, will be held adjacent to NDSCS' Alumni Stadium. Gates open at 5 p.m., with bull riding beginning at 6 p.m. Tickets are available at www.wfdbullbash.com. The event will feature a beer garden, with Summit Brewing Co. offering samples. Admission includes access to a post-rodeo concert by Billy D and the Crystals.
"Breakfast of Champions," a fundraiser for the Wahpeton Booster Club, will be held from 8 a.m.-12 p.m. in the Wahpeton High School Commons, 1021 11th St. N. Tickets will be available at the door.
For more information, visit Wahpeton Fall Festival on Facebook. Festival organizers thank the Wahpeton Convention & Visitors Bureau for their support.