Thirty-six years ago, Marty Johnson gave his family an unexpected Christmas present.
Johnson, now 65, thought his mother's sister just about walked on water. His aunt had some health issues that year and was living in a retirement center north of Olympia, Washington.
"I thought, 'I just love that woman so much and I want to make Christmas special for her,'" Johnson said.
For the first time, Johnson put on a Santa Claus suit. He had previously told his family that he couldn't make their big dinner at his aunt's retirement community.
"I went there, went into the restaurant with my suit on and handed out candy while making small talk," Johnson recalled. "I went up to the family's table and stood right in between my aunt and my mother. I asked, 'Are you kind of a special lady at this table?'"
His aunt wanted her whole family there for Christmas, Johnson learned.
"I pulled down my beard and said, 'Well, what about me?'" he recalled. "My mom just about had a heart attack. She thought, 'No way in hell would my son ever do anything like that. He's just too strait-laced and would never make a scene like that.'"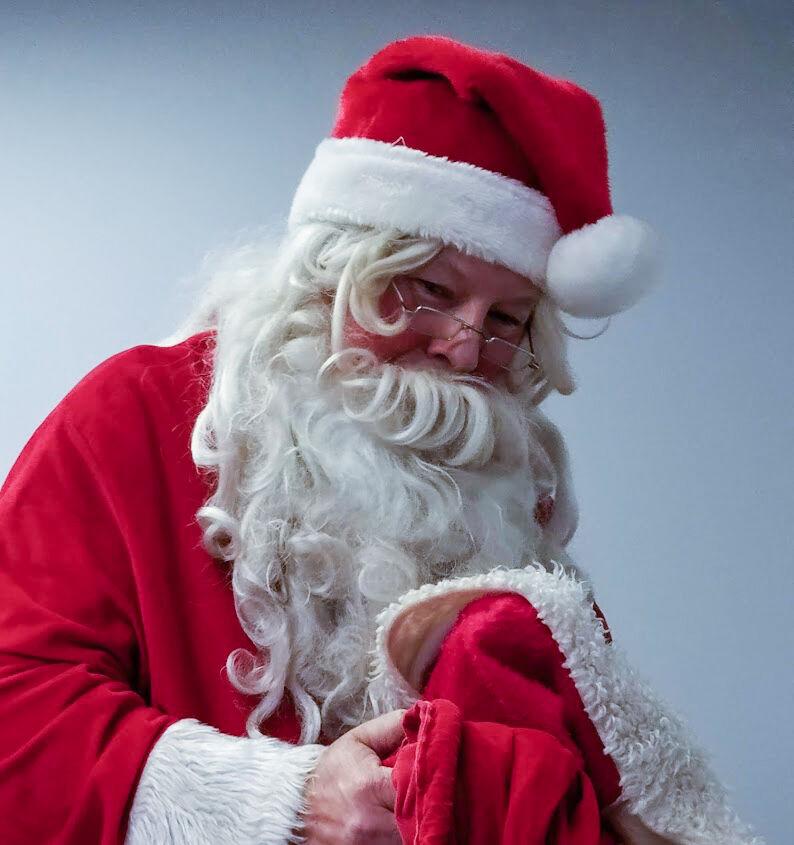 The special family moment which, alas, was not captured with a photo, led to many happy Christmases for Johnson. A resident of the Salem, Oregon, area, Johnson is a widower with ties to Wahpeton. He visited the community for the first time in the summer of 2019.
"My grandpa, Frank O. Johnson, is part of the family buried in Fairview Cemetery," Johnson said. "I found out about grandpa two summers ago as part of a family reunion. One of my cousins was telling me about how he was dressed up as Santa Claus and how another walked right up to him and said, 'Well, hi, Grandpa!'"
Throughout the 1940s, Frank Johnson was known for playing Santa Claus. He would traditionally walk up and down Dakota Avenue, visiting businesses and other locations to bring Christmas cheer. Now, roughly 80 years later, Marty Johnson hopes to do the same.
"Providing that the weather is acceptable, I want to come here myself," Marty Johnson said. "I called Chief Scott (Thorsteinson, Wahpeton Police). He checked me out and made sure I didn't have any criminal history."
Thorsteinson was told that Johnson has two items left on his bucket list: to play Santa Claus in Wahpeton and to marry Sandra Bullock.
"I told him that I would try to help him accomplish No. 1," Thorsteinson said.
Billie Shults, Johnson's girlfriend, has known him for decades. They reconnected after he became a widower and she's proud of his yuletide talents.
"He came to my work one year and people didn't even know who he was," Shults said. "That's how good he was. He was calling out a couple of names and looked right at the people. They thought I was in cahoots, but no, he was just paying attention. It was magnificent."
This year, Johnson has an authentic Santa Claus beard and the longest hair he's ever had.
"I said, no, honey, don't shave. It looks real good," Shults said.
Johnson is hoping to visit the Twin Towns Area anytime after Thanksgiving. Once he gets a call from his cousin that the local weather will be decent for about a week or so, he'll make the drive from Oregon.
For decades, Johnson would annually play Santa Claus in his community. He hung up the suit in 2014 upon becoming a widower, but would occasionally bring it back when there were special children.
"I did it out of an act of love," he said. "That's my thing. I had a lot of good memories doing this. It's not a paying proposition. I never expected any money. I'd just ask, 'Where do you want me to go? Okay, I'll be there.'"
Johnson now hopes that "there" will be the Twin Towns Area.
"I'm from Oregon. I don't know what North Dakota's cold is like," he said. "If I drive all the way there and back, I'd like to make it a trip that was worthwhile."