A grain bin was blown over and another one appeared to have lost its roof. An apartment building did lose part of its roof, exposing rafters. Several fences were downed, while trees were uprooted or lost limbs.
These were among the damages visible throughout Wahpeton following a Thursday, May 12 storm. Shortly after 7 p.m., a tornado warning was issued for the southern Red River Valley, including Wilkin County, Minnesota, and Richland County, North Dakota.
Richland County Emergency Manager Brett Lambrecht and Wilkin County Emergency Manager Breanna Koval were each unable as of midday Friday, May 13 to confirm if actual tornado touchdowns occured. The National Weather Service (NWS) would survey the area and determine if there were even short-lived tornadoes during the storm, Koval said.
"During the storm, we had tornado warnings for most of Richland County, with the sirens going off in the cities," Lambrecht said. "The warnings were determined based on rotation spotted in the Hankinson area."
NWS' Grand Forks, North Dakota office also reported on the weather Thursday evening. A tornado hazard was indicated by radar and people in the affected area were warned of potential impact.
"At 7:06 p.m. CDT, severe thunderstorms capable of producing both tornadoes and extensive straight line wind damage were located along a line extending from 6 miles south of Lidgerwood to near Immanuel Church, moving north at 60 mph," NWS stated.
NWS received more than 200 reports of damaging winds from Kansas to Wisconsin, the Washington Post reported Thursday. The most severe damage was in a region spanning eastern Nebraska through southwest Minnesota, including eastern South Dakota and northwest Iowa.
"Producing widespread damage along an extensive path the storm complex met the criteria of a derecho — the meteorological term for an arcing, fast-moving line of violent storms whose damage can be comparable to a hurricane," the Post reported.
The most extreme wind gusts reported were 107 mph in Hutchinson County, South Dakota; 102 mph in Deuel County, South Dakota; and 97 mph in Madison, South Dakota, the Post reported.
Thursday's storm moved fast, Lambrecht said. It is estimated that the storm traveled 65 mph in some locations. Microbursts were expected to briefly increase overall speed.
"This was a storm that was in the works for days," Koval said. "We had plenty of notice that this type of system was coming and it was not a surprise when it materialized."
Issuing the tornado warning, NWS warned of possible hazards.
"Flying debris will be dangerous to those caught without shelter. Mobile homes will be damaged or destroyed. Damage to roofs, windows and vehicles will occur. Tree damage is likely," NWS stated.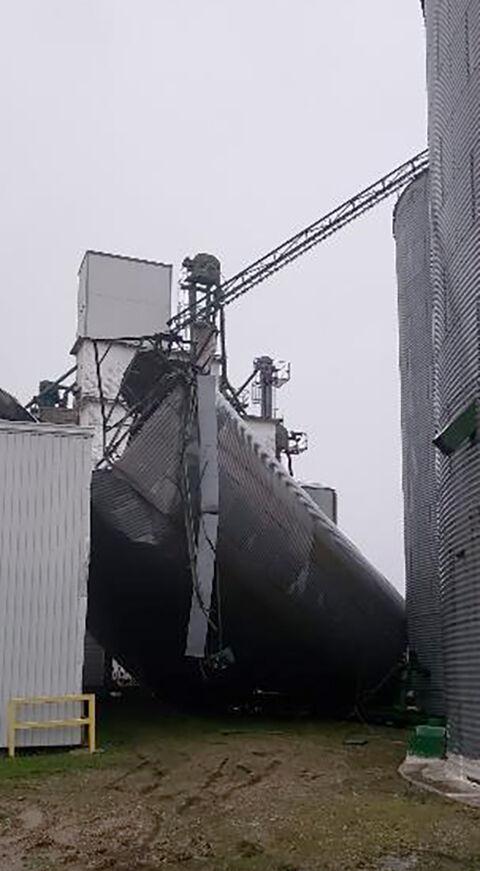 When a tornado warning is issued, all in the affected area are urged to immediately take cover. Among the sheltering individuals was Kathy Skroch, Lidgerwood, North Dakota, who said she attended a Thursday meeting at St. John's Catholic Church, Wahpeton.
"At moments, it sounded like the roof would leave," said Skroch, a state representative for the now-redistricted North Dakota District 26. "When we stepped out after the storm, we viewed serious damage to the church's shingles. Shingles were scattered for blocks in all directions."
Skroch is running for election in North Dakota District 25. She had magnet campaign signs on her car, which was in St. John's parking lot during the storm. One such sign was missing after the event.
"We walked throughout the area but had no luck finding it. That is how we knew shingles were spread out for blocks," Skroch said.
St. John's is located at the intersection of Dakota Avenue and Second Street in Wahpeton, close to where Lambrecht said most of Wahpeton's storm damage occurred.
"The hardest part of town hit was the south side," Lambrecht said. "From 11th Avenue South up Second Street to the train tracks, there were a lot of trees down. You could see the roots. The way the soil is now, it doesn't take much to lose an evergreen. We saw a lot of evergreens down."
Wahpeton Public Works was active before, during and after the storm, Lambrecht said. They responded to sanitary sewer alarms, manned equipment to clear debris and generally worked to reopen streets.
Once the tornado warning was lifted, Daily News employees surveyed damages. Readers also shared storm photos on the paper's Facebook page. Koval reminds the public that is is not always safe, nor helpful, for the general public to be out and about immediately following a storm.
"It's actually somewhat of a hindrance," she said. "Remember, there may be downed power lines and there are people out cleaning debris. After a storm, wait a little bit. Let the professionals and boots on the ground employees do their jobs."
NWS advised people affected by the tornado warning to move to a basement or an interior room on the lowest floor of a sturdy building.
"Avoid windows," NWS stated. "If you are outdoors, in a mobile home, or in a vehicle, move to the closest substantial shelter and protect yourself from flying debris."
Rural Richland and Wilkin counties received considerable storm damage, Lambrecht and Koval said. Power outages in Campbell, Minnesota, were reported beginning at 6:30 p.m. Thursday, with full power restored at approximately 12 a.m. Friday.
"Three (Richland County) farmsteads close to the Traverse County (Minnesota) line were still without power as of 10:30 p.m.," Lambrecht said. "We were working with those residents and making sure they had generators. It's tough to lose power in a situation like that, with all the rain and when you need your sump pump to work."
Within Wahpeton itself, Lambrecht said, power outages ranged from lasting a minute at the Richland County Law Enforcement Center to longer elsewhere in the city.
"The fire department was called out for weather spotting and that helps," Lambrecht said. "The police department was also out, monitoring for major damages to homes. We checked on places like that apartment whose roof was damaged and checked on the residents. The police department helped, too. It was about making sure people were okay."