Rylee Montplaisir, Wahpeton, always thought the annual Borderline Chalkfest festival was amazing. It was something she wanted to be a part of, Montplaisir said Saturday, July 17, opening day of the 2021 festival.
Monplaisir sketched a lion, an image which won the Amateur Artist Fan Favorite award from Chalkfest visitors. Gloria Ing, Los Angeles, earned this year's Professional Artist Fan Favorite award. Visitors selected their favorites by purchasing marbles and placing them in buckets at the location of most artwork.
"I've seen the festival every year," Montplaisir said.
The Third Annual Borderline Chalkfest, which concluded Sunday, July 18, included 13 nationwide professional artists and nearly 40 amateurs. Artwork was seen by approximately more than 2,000 people.
"The chalk family that comes this weekend are such a great group of people," said Shawn McCann, a featured artist and organizer. "They really enjoy being out here and have come from all over the United States. It doesn't matter where we're at, we create some amazing things."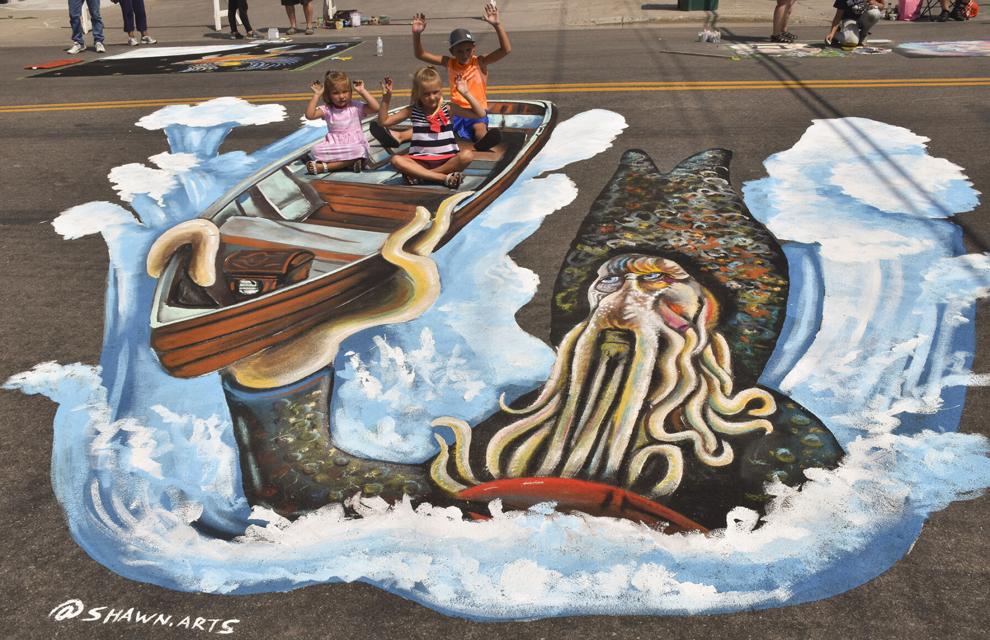 McCann's latest 3D artwork depicted Davy Jones seizing a rowboat. Once completed, the art was ready for some unique interaction. Owen Heger, 7, and sisters Chloe and Payton, ages 5 and 2, were among the visitors "fighting" Davy as he tried to bring the boat to the sea's depths.
Other interactive artwork included a 3D wood chipper created by Craig Thomas, Cape Girardeau, Missouri. Inspired by the movie "Fargo," the chipper could be "stood in" or "be fed" a mannequin's limb. Erik Greenawaldt, "The Chalking Dad" from Pittsburgh, Pennsylvania, created a stack of s'mores, fulfilling a goal of creating something for summertime.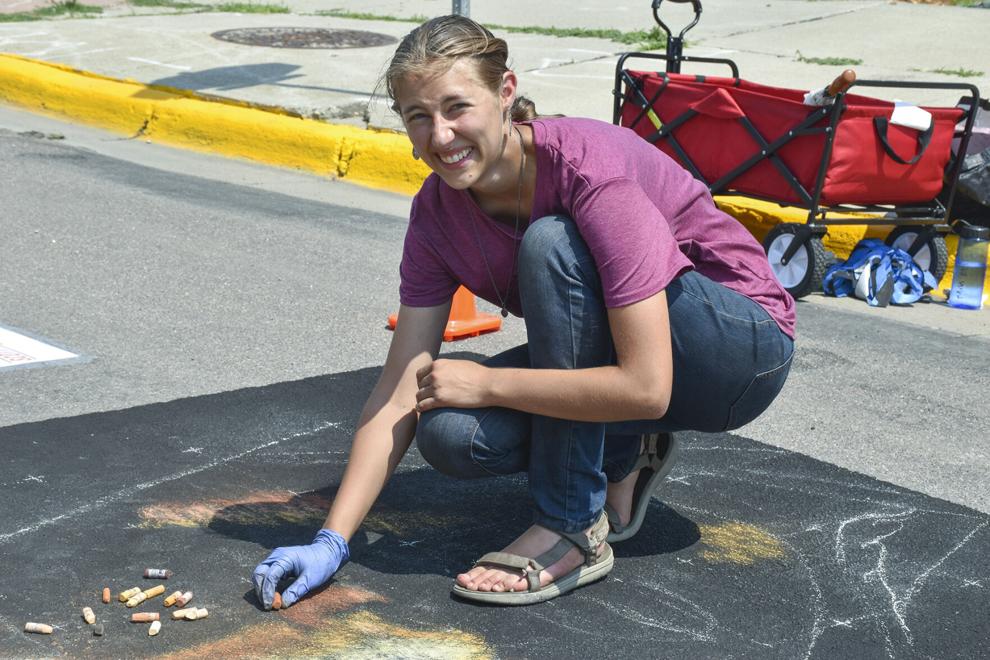 Several artists created portraits. They included Zach Herndon, Atlanta, who did a Pop Art-style portrait of his son, Lachlan. Maria Loh, Fargo, made the transition from amateur artist to featured participant with her portrait of a regal-looking woman.
"With her beautiful teal and gold veil, my first thought was of Queen Esther of the Bible, and the verse that follows," Loh said. "'Made for such a time as this.' I'll be drawing her today and tomorrow."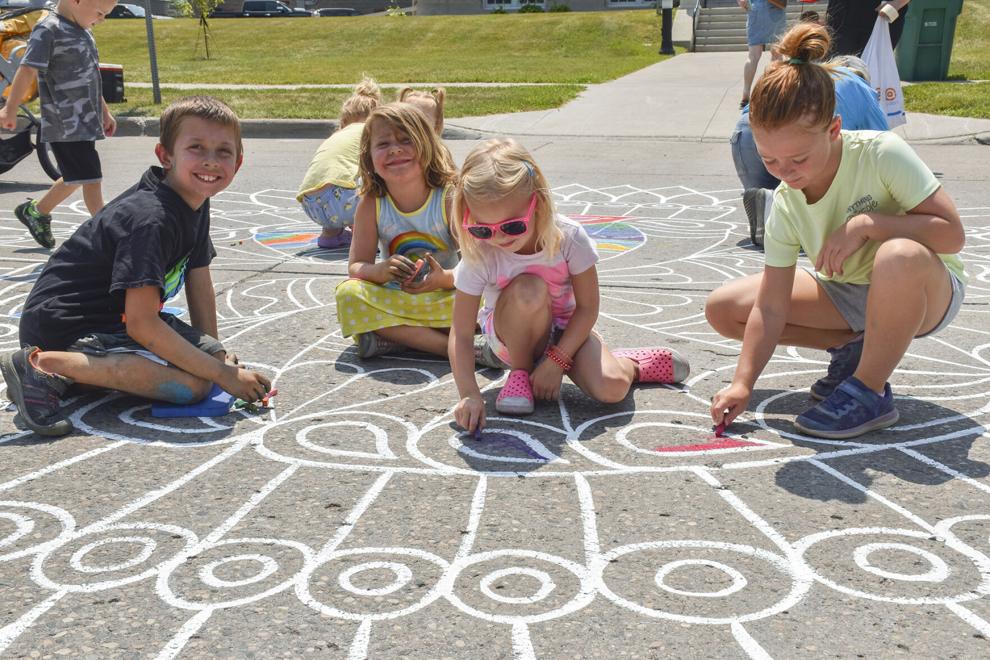 Not far from Loh and her queen was the popular mandala exhibit. Visitors of all ages colored in segments of the bigger picture. The colorers included McCann's niece and nephew, Zachary and Lillian Rieger, ages 8 and 5, of Plymouth, Minnesota. The Riegers were joined by, among others, Brinley Bruns, 8, and her cousin Eloise Olsen, 5, both of Wahpeton.
"The kids add all the fun," Elaine Klocke said.
Kocke, a former middle school art teacher, painted the mandala's designs. She collaborated with Sandy Forseth, St. Louis Park, Minnesota, who sketched the intricate designs.
"I've been coming since the first Chalkfest and one of the things that was evident is that the community of Wahpeton absolutely embraces the arts," Forseth said. "We've had student after student coming up and saying, 'I want a square (to color), I want a square, I want a square.' I've worked at several different festivals and I haven't seen that kind of interest in art at such a young age. Kudos to the school systems that encourage this interest and open development, as well as the families."
McCann said he was proud of the support Wahpeton and its community have given Borderline Chalkfest. In addition to art, there were meet-and-greets with businesses like Vivid Cameraworks (which took aerial photography) and contests like "How Many Skittles?" sponsored by KrAz Dance.
"If they guess right, they can win a cute little cup with our logo on it," said Kelsey Thiele, studio owner and dance instructor.
Wahpeton Breckenridge Area Chamber of Commerce Executive Vice President Lisa Kunkel said she was "blown away" by the amount of participation.
"Normally, we don't see so many people here this early (midday Saturday)," Kunkel said. "Many of our artists returned. Chahinkapa Zoo hosted a tour for the professional artists. We really appreciated that. We also like they they're going to include something local with their art. It's always something to see."
Jodi Hendrickson, a Chamber member, said Borderline Chalkfest is an event which benefits many people, businesses, organizations and communities.
"Sponsorship shows that we support our community, that we want to bring people here. We're supporting being a business owner and how we want to grow this community," Hendrickson said.
Borderline Chalkfest continued a summer of activity in the Twin Towns Area and Southern Red River Valley. Upcoming events include:
• Music in the Park, 7:30 p.m. Wednesday, July 21, with headliners Kroshus and Krew in Chahinkapa Park, Wahpeton.
• The North Dakota Babe Ruth Baseball State Tournament, taking place Thursday, July 22-Saturday, July 24 at John Randall Field in Chahinkapa Park.
• Lidgerwood Heritage Days, Friday, July 23-Sunday, July 25 in Lidgerwood, North Dakota.
• Aber Days, including activities at Fort Abercrombie and the 5 p.m. Abercrombie Fire and Rescue Rodeo, Saturday, July 24 in Abercrombie, North Dakota.
• The Second Annual Headwaters Music Festival and Jam Camp, carrying on Dave Engstrom's missions of entertainment and education, from Thursday, July 29-Sunday, Aug. 1 in Wahpeton and Breckenridge, Minnesota.
Look to Daily News for continued coverage of local summertime events.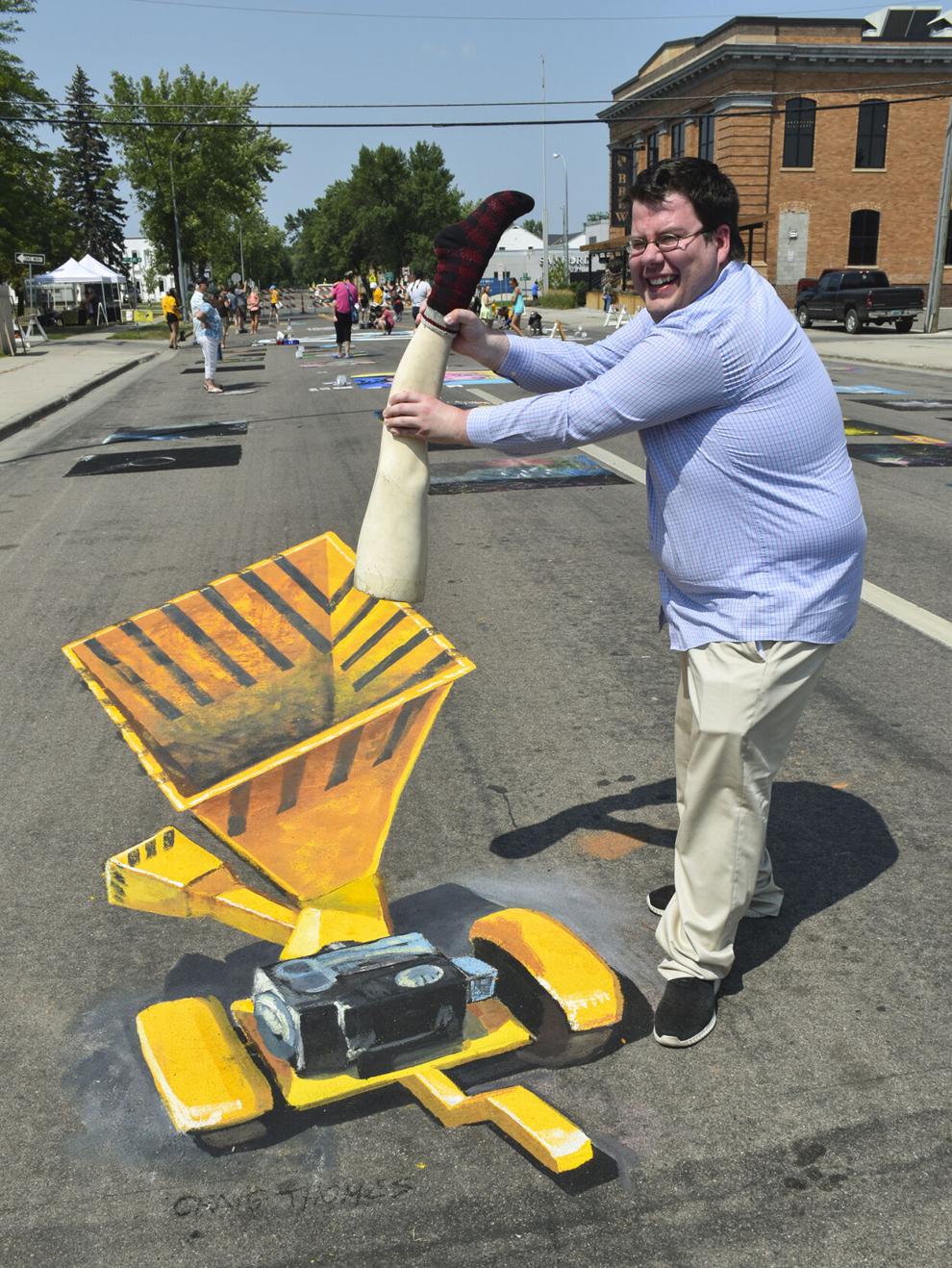 For more information on Chalkfest, read Kunkel's column in today's Opinion section. Photos from this year's Chalkfest are available at Daily News' website and NABUR. Additional photos will be included in the issue of Southern Valley Living magazine.