Wilbur-Ellis hosted a showing of Disney's "Planes" for Richland-Wilkin Kinship mentors and mentees Wednesday evening, Sept. 15 at Harry Stern Airport, Wahpeton.
Wilbur-Ellis Agribusiness pilot Eric Klindt said he and long-time friend and director of Kinship Rebekah Christensen got the idea for the event after the company had cleaned and set up a hanger for their customer appreciation day the week before. They spoke about utilizing the decorated hanger for another purpose: bringing joy to area youth.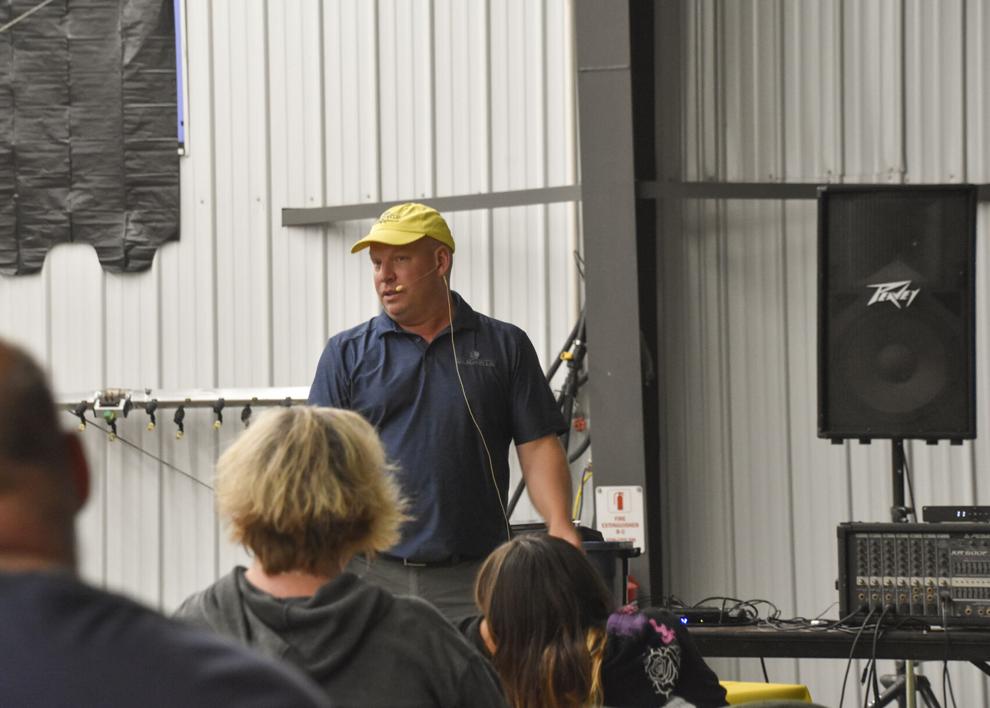 Klindt set up a 20-foot inflatable screen and projector, and the Wilbur-Ellis crew served pulled pork, hot dogs, chips and drinks for the group. The choice in the featured presentation was fitting, as "Planes" centers around Dusty, an aerial applicator plane with big dreams. It also happens to be Klindt's favorite movie.
"We don't have a movie theater, so it was just something different and fun," Christensen said.
Klindt, who has been an aerial applicator for over 25 years, recently completed a replica of Dusty. The character was parked next to the movie screen, and mentees were able to take pictures next to him after the movie. They also got to see a real spray plane up close — a signature yellow Wilbur-Ellis plane was situated behind the tables.
Around 40 Kinship mentees and mentors showed up to Wednesday's event, Christensen said. Klindt said he was expecting around 40 to participate, and he was pleased with how many came for the show.
"There's nothing better than seeing smiling, happy kids," Klindt said.
Klindt is already planning a follow-up event next year with the movie's sequel, "Planes: Fire & Rescue." He said it worked perfectly to host the customer appreciation day first, then keep the decorations for an event with Kinship the following night.
It is important to Klindt to have positive representation of Wilbur-Ellis in the community and of aerial applicators in general. At the end of the presentation, Klindt talked to the youth about the company and what they do.
The event was also the perfect opportunity for Kinship mentors and mentees to connect in a light-hearted and safe environment. Kinship's primary focus is one-on-one mentoring. However, the program provides additional support through a Teen Life Skills program and activities that mentees and their families can partake in each month, Daily News previously reported.