We asked you for your memories about 9/11 and how it affected you. Here are your voices:
Wahpeton, N.D. resident Patsy Willemssen:
On Sept. 11, 2001, my husband and I were excited as we boarded a Delta flight in Fargo as the first part of our trip to San Antonio, Texas.  We were going for a short sight-seeing trip, followed by the real reason: Watching our son, Adam, graduate from Air Force Basic Training on the 14th!
After a quick plane switch in Minneapolis, we landed at Dallas-Fort Worth airport.  Immediately we sensed something was off, as the plane did not taxi toward the buildings, but sat on the tarmac for 20-plus minutes.  
A check outside the plane window showed limited activity on the ground, but this was our first time at this airport so no alerts were sounding at that point.  There was no information forthcoming from the pilots.
The plane finally moved toward the deploying area.  The crew was professional, but stiff, as they advised us to be sure to take all personal possessions off the plane even if some planned to continue on that flight.  Odd.  There were a lot of planes parked, and none taking off – it was eerily quiet for a busy airport.  Odd. We finally exited the jet way and were met by greeters, who provided directions to the new transport system that would take us to the main terminal.  However, few were smiling.  Odd.   
At the main terminal, it was clear something was going on ... something bad.  People were walking around with stunned looks on their faces, some were crying, and we still didn't have a clue why.  (Cell phones of the time were really just portable phones with clocks.)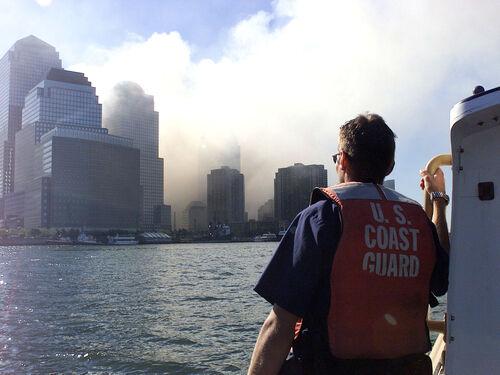 As we walked through the terminal, we passed a TGIF eatery with a couple of televisions hanging on the wall, noticing all eyes were glued to the news.  It was then we watched as the second plane hit the second tower.  People screamed, drowning out the reporter, they turned to each other and hugged.  It was then we began to learn the full extent of what was happening, not only in New York, but also in Pennsylvania, and Washington, D.C.  Our lives, our way of living changed forever that day. 
My immediate concern was for my brother, as he was in Washington DC.  I later learned he had been three blocks from the Pentagon crash, and the low flying plane had caught his attention from his hotel room. Being in the military, he was fortunate to have caught a flight back to New Mexico on a military transport – one of the last planes to fly that day.
Our son and his fellow soldiers, were in lockdown.  No one in, no one out.  It appeared he would be starting his Air Force career in an unsettling time, and would later deploy numerous times to the Middle East in service to our country.
Dallas was lockdown, as there was concern there could be more attacks on World Trade Centers around the country.
There were no cars for rent – they were all spoken for.  Hotels near the airport jacked their prices, yet were filled in no time.  We were fortunate to connect with a group who had found lodging with complimentary transportation who invited us along.  It took us three days of constant phone calls to arrange a flight home.  What an experience.
While we did not ever visit San Antonio, or get to see our son graduate, we were forever impacted by the experience ... and still are.
---
Former Wahpeton resident Karen Werner, who was living in Minneapolis at the time:
I was at work and had to run out to my car in the parking lot. As I walked by the TV monitor at the security guard's desk, I looked up to see what was going on. At first, I thought it was an ad for a new movie that was coming out and it intrigued me, so I stood there and watched for a bit. Then realized what was actually happening! Within about 10 minutes, a huge group was gathering and we were all in total shock.
When I got home after work, I turned the TV on as soon as I could and watched everything until about midnight and then when I went to bed, I could not get to sleep.
I turned on the TV first thing the next day and it continued to finally sink in as to what happened. Though I did not know anyone who was there, I couldn't even imagine what all those people involved were going through.  The USA we all loved was never going to be the same again.
Still to this day, the images stick with me. I think it is also why I have developed such a strong patriotism to our great country. I fly the flag proudly in my front yard.  And it's probably also why I get all teary-eyed whenever I hear the Star Spangled Banner or Lee Greenwood singing "God Bless the USA."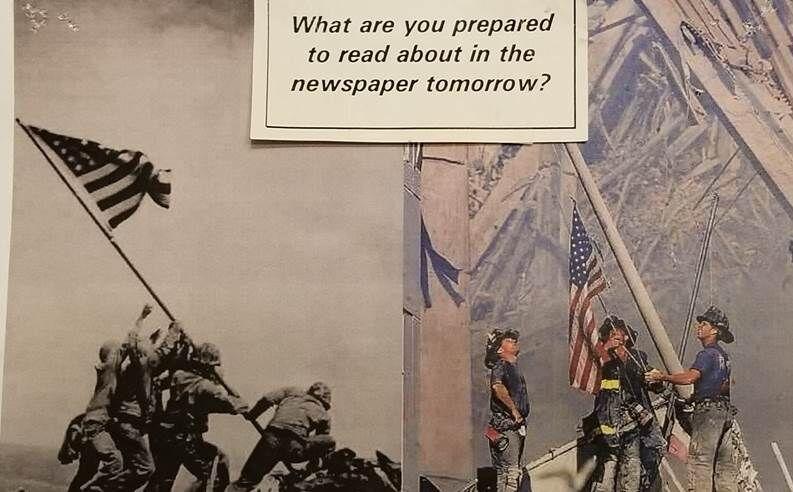 I still have this picture (above) hanging on my fridge that reminds me daily.
---
Minn. Rep. Jeff Backer remembers 9/11
By AUDRA ANDERSON • Daily News
Daily News caught up with Minnesota state Rep. Jeff Backer (R-12A), who represents Wilkin County, Minnesota, about what he remembers of Sept. 11, 2001.
How did you react to the 9/11 attacks?
Like many, I was shocked, saddened, and angered by the attacks of Sept. 11, 2001. After hearing about the attacks, I called a friend of mine that worked by the World Trade Center in New York to make sure that he was okay. When I first called, he didn't pick up, so I had to wait until later in the day to finally confirm that he was safe.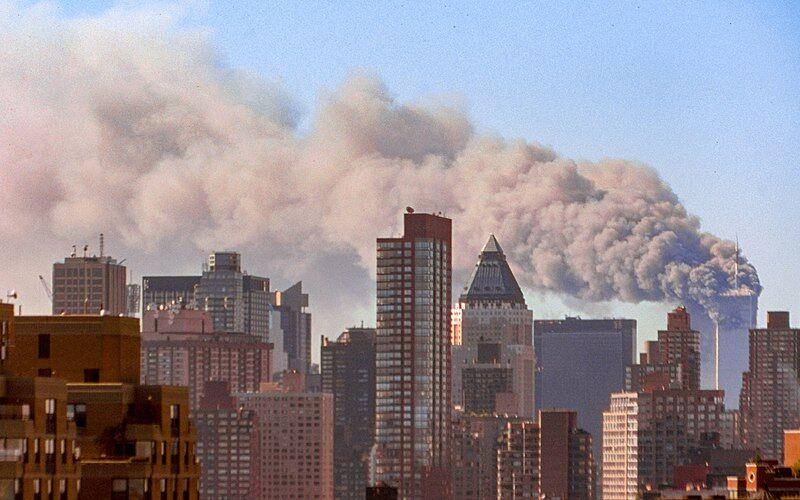 On the morning of Sept. 11, 2001, I was taking my daughter and my nieces to the park to play. We were just getting our shoes on when news of the first tower being hit came across the TV and radio. We quickly ran over to my sister-in-law's house and watched the second tower get hit while we were over there.
How do you feel about the way the country responded?
Despite the tragedy and loss of life, I was inspired by the way our country rallied around each other in the days and weeks following the attacks and how many people turned to God and faith for comfort. In many ways, there was a sense of national pride and unity in the wake of the attacks. I also felt great sympathy for the individuals and families that were personally impacted by the attacks as well as for the brave men and women that went overseas to find and punish the evil men that were responsible for heinous attacks.
Why is the 20th anniversary significant?
The 20th anniversary is significant because it makes Americans pause and remember the tragic events of that day as well as the bravery and sacrifices of many. Not only by the first responders that rushed into burning buildings, but also the men and women that courageously volunteered to serve their nation overseas in the efforts to hunt down and punish those that were responsible for these attacks.
---
'The world changed a lot sooner than either of us expected'
Stanko remembers 9/11 in classmates and teachers' faces
By Frank Stanko • Daily News
For 16 days, I am the same age as my younger brother, Chris. On the night of Monday, Sept. 10, 2001, I joked in my journal about how we both were getting closer to being teenagers.
Chris' 12th birthday fell on 9/11. The world changed a lot sooner than either of us expected.
I was in English class. We were picking out books in the library when someone turned on the TV. A plane had crashed into one of the Twin Towers. I can't remember if my principal came on the PA and told us to turn on the TV or if it was a case of word spreading quickly.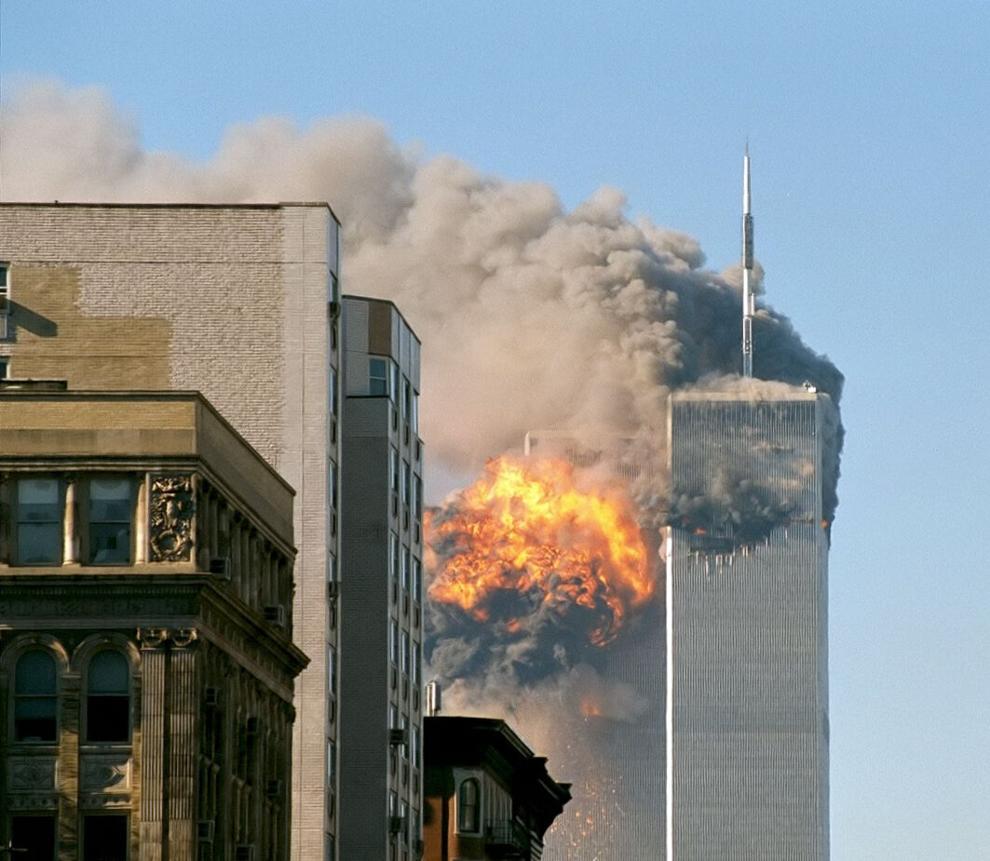 We watched the fireballs and the smoke and the updates from the people on TV. Not long after we turned the TV on, a second plane crashed into the second tower. I remember looking around the room, mostly at my classmates. I don't think I wanted to look at the adults.
"They'll survive this," I naively said to myself. "Didn't they survive a bombing before? And wasn't there a plane that went through the Empire State Building?"
When something so horrifying, so confusing like the attacks on the World Trade Center happens, it's hard to know how to react. The bell rang and we went to our next classes. More information was coming, this time that a plane crashed into the Pentagon. The Pentagon, which I hadn't thought much about except for assuming that it could somehow withstand that sort of thing.
It was nearly 10 a.m. when the South Tower collapsed. That time, I did look at one of my teachers. She was maybe a little younger than my mom. Anyway, I just remember a mixture of sadness, confusion and disbelief. That tower fell, a lot of people had died or were hurt and who on Earth knew what would happen next?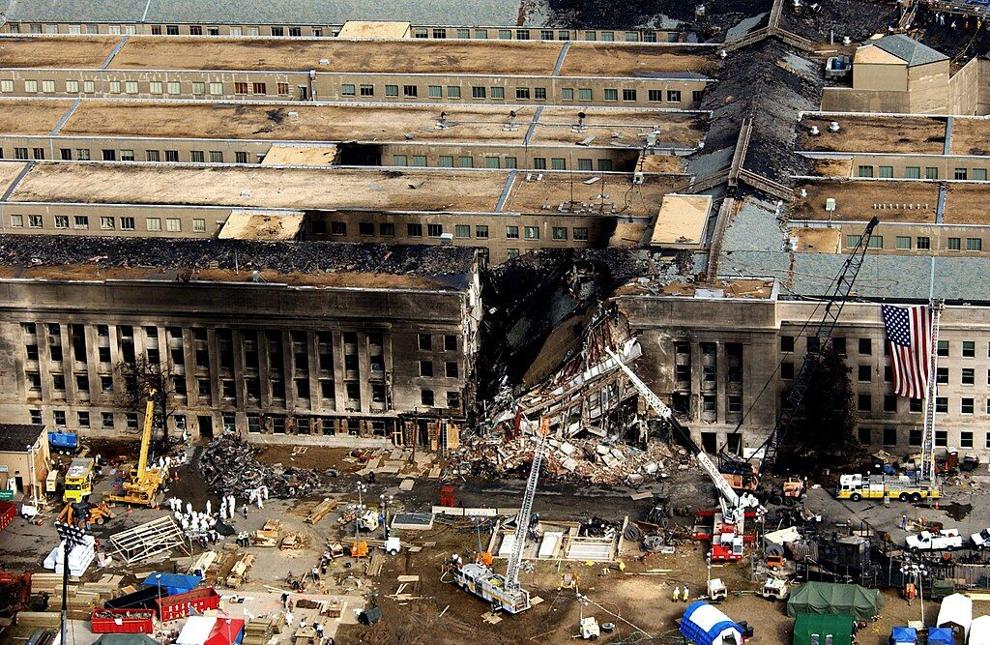 The rest of the day is a blur. I had a social studies teacher I really liked. She began most classes with a quick rundown of the news and to her credit, the blackboard that day had "Here's what we know so far" written on it. We weren't going to go off on tangents. We were going to know roughly what the rest of the world did. I'm 100 percent sure I had never heard of Osama bin Laden until that afternoon. For several weeks after, he was never far from my mind.
School ended. We went home. My house was along a highway, so I couldn't ride my bike beyond the driveway. I just kept circling and circling, not at all sure what was going to happen next. Paranoia was high that day. I honestly believed a little that the next plane would crash closer to home.
We had Chris' birthday, even if he wasn't in the mood for it. I wish my memories had some sort of a deeper meaning or central image, but they don't. It was a horrifying day that even now evokes those feelings of confusion and sadness.